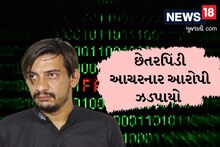 Surat:
When people go to work in any government department, government employees do not work without taking bribe. 23 continuous complaints coming to the state government, the state government has made the ACB department operational and after ordering legal action against such corrupt officials, following complaints that the officials are seeking bribes to do people's work after taking government salary, such officials have been tapped by ACB and caught.
ACB caught the officer red-handed
The Surat ACB unit has today taken legal action against a Central GST Class II official after taking a bribe of ₹1,500. On the basis of complaints that government employees are working only after taking lakhs of rupees from a common man, Surat ACB unit has continuously taken legal action against such officials, while one more corrupt officer has been arrested by Surat KCB unit.Also Read: Madari gang nabbed for robbing sarpanch of Gingani village in Jamjodhpur
The officer demanded a bribe of Rs 1,500
GST by a businessman in Surat for his business purposes. After making an online application to get the registration number, after verifying the evidence and giving a positive opinion, Rs.3,000/- was demanded instead of forwarding the report and if the dealer did not have the facility, it was decided to give Rs.1,500/-. Those who do not want to pay the bribe amount complainant approached ACB and filed their complaint, Ranjit Kumar Krishna Kumar Sah, Class-2, Post- Superintendent, CGST. Range-3, Division-1, Office of Central GST and Central Excise Commissionerate, Opposite Multi Storey Building, Nanpura, Surat.
Also Read: Gujarat's only forest themed on the life of Lord Shriram is located in Rajkot
Legal action was taken against the officer
When a businessman filed a complaint against the officer today, the officer came to the businessman to accept bribe money, ACB organized a trap and took action against the officer. has been done.



In Surat, the accused who cheated by showing screenshots of false payment to the seller was caught




Surat's Fort at Chowk Bazar increases ticket rates, 32 galleries instead of 5




Surat: Liquor business was booming under the guise of fast food, expensive bottles were found in Red




Three 'enthusiasts' were also caught having fun under the guise of a spa in Surat




Central GST Class 2 officer caught red-handed taking bribe of Rs 1,500, legal action initiated




Surat: Forced fraud at the petrol pump, police were called when petrol was running low from the tank




Dogs attack youth twice in Surat, 28-year-old dies after brief hospital treatment




Surat: Be careful arranging 'private' visits to hotels! This can happen to you too




Surat: There is only one Panchadevi temple here, where this Mataji resides, such is the belief




Get speak! Liquor smuggling under the guise of video and photography order, police arrested one




1 caught with 54 marks of subsidized urea fertilizer in Sachin, police take action
The treasure of Gujarati news is News18 Gujarati. Read more news including Gujarat, Foreign, Bollywood, Sports, Business, Entertainment on News18 Gujarati
Tags: Bribe case, Surat news, Surat police