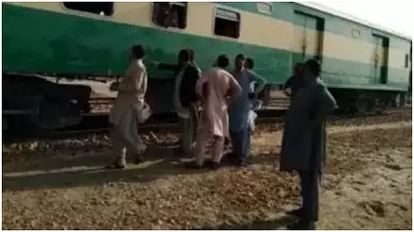 Passenger train collides with goods train
– Photo: Social Media
Expansion
On Sunday, a passenger train collided with a goods train standing on the main railway line in Pakistan's Punjab province. At least 31 people were injured in this accident. Let us tell you, the accident happened near Qila Sattar Shah station in Sheikhpura district.
It is being told that the passenger train going from Mianwali to Lahore was traveling on the same track where a goods train was already standing. The train driver tried hard to prevent an accident, but to no avail. Rescue workers said 31 passengers were injured in the accident. Five of these have been admitted to the district headquarters hospital.
Formation of inquiry commission
Railway officials said that investigation into the accident has been started. Four railway officials, including train driver Imran Sarwar and his assistant Muhammad Bilal, have been suspended. Officials said that after the accident, train operations are running smoothly in Lahore division. The track has been cleared. Apart from this, an inquiry commission has been constituted under the leadership of Deputy Principal Officer, which will submit its report on the incident within 24 hours.
no compromise on security
Railway Chief Executive Officer Shahid Aziz said that there will be no compromise on the safety of passengers. Meanwhile, former Prime Minister and President of Pakistan Muslim League Nawaz (PML-N) Shehbaz Sharif expressed grief over the incident and demanded action against those responsible for the accident.
Several fatal train accidents occurred
Over the past decade, several fatal train accidents have occurred in Pakistan. In August this year, 10 bogies of the Haveli-bound Hazara Express derailed near Sahara railway station in Nawabshah district of Sindh province, 56 km from Karachi, killing at least 275 people and injuring a dozen others. they were finished.