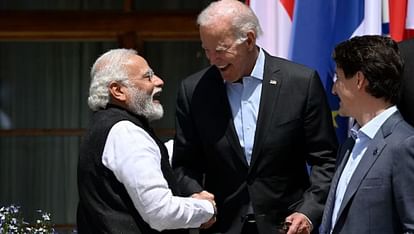 PM Modi, Joe Biden and Justin Trudeau
– Photo: Social Media
Expansion
America itself had given intelligence about the murder of Hardeep Singh Nijjar to Canada. After this, Canada intercepted the conversation between Indian officials and seriously accused India of being involved in the murder of Nijjar. Due to which there has been tension in the relations between India and Canada. American newspaper New York Times has made this claim.
Intelligence information shared in Five Eyes countries
Reports say that the top diplomat present in Canada has confirmed that intelligence information was shared between the member countries of the Five Eyes organization. Let us tell you that along with America, Canada, Britain, New Zealand and Australia are also partners in the Five Eyes organization. According to NYT reports, after Nijjar's murder, the US intelligence agency gave important information to its Canadian counterparts, which helped Canada conclude that India was involved. US Ambassador to Canada David Cohen had also admitted in a media interview that 'intelligence shared between the Five Eyes partners had informed Trudeau about the involvement of Indian agents in the murder of a Canadian citizen. There was a lot of discussion between Canada and America regarding this.
According to media reports, US officials told their Canadian counterparts that Washington had no advance knowledge of the plot and that if it had, Canadian officials would have been informed. It is noteworthy that the Canadian government had also informed Hardeep Singh Nijjar about the possible threat to his life. However, he was not told that this attack could be from the Indian government.
American diplomat also accepted
US Ambassador to Canada Cohen said that 'America takes these allegations very seriously. If this proves to be true, it would be a serious violation of the rules-based international system in which we prefer to operate. Let us tell you that in June, Khalistan supporter Hardeep Singh Nijjar was murdered in British Columbia, Canada. Recently, Canadian PM Justin Trudeau alleged in the Parliament that India could be involved in this murder. He called the killing of a Canadian citizen in Canada an attack on sovereignty. Canada had expelled India's diplomat.
India also reacted strongly to this and expelled the Canadian diplomat. India has also banned the issuance of visas to Canadian citizens and advised Indians to avoid traveling to Canada.