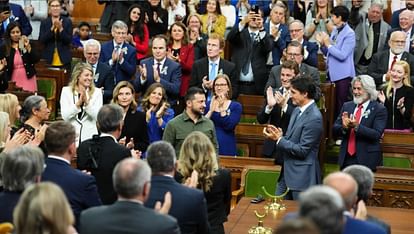 Ukrainian President in the Parliament of Canada
– Photo: Social Media
Expansion
In a shameful incident, the Canadian government has honored a pro-Nazi former soldier. During this, all the MPs stood up and greeted the Nazi supporter. However, when it was later revealed that the man who had been honored as a war hero had been a Nazi supporter, there was an uproar and the government had to apologize.
Canadian Parliament made a mistake
Let us tell you that Ukrainian President Volodymyr Zelensky recently visited Canada. During this, Zelensky also addressed the Parliament of Canada. During Zelensky's address to parliament, Yaroslav Lyubka, a World War II veteran, was honored as a Ukrainian hero. Hunka fought the war against Russia on behalf of Ukraine. During this, all the Canadian MPs stood up and greeted Hunka. However, it was later revealed that Hunka also served in Hitler's Nazi army. As soon as this information came to light, there was an uproar.
Speaker apologized
The Friends of the Simon Wiesenthal Center issued a statement on Sunday saying, 'At a time when anti-Semitism is on the rise around the world and the Holocaust is being distorted, it is extremely painful that a division of the Nazi army has been named in the Parliament of Canada. A member who had served in the This division was responsible for the murders of Jews and others.' Due to criticism, the Speaker of the Parliament of Canada apologized over the incident on Sunday. He said that I want to make it clear that no MP or Ukrainian delegation was aware of this. The speaker also specifically apologized to the Jewish community.
read this also- Canada: Justin Trudeau again surrounded in his own country, opposition leader made serious allegations, said- PM should apologize
The opposition surrounded the government
The opposition has cornered the Canadian government regarding this incident. Canadian opposition leader Pierre Poilievre has demanded an apology from PM Justin Trudeau. Pierre raised the question, 'Did no MP get a chance to investigate this person's past before he was called and honored in the House of Commons? For this, Justin Trudeau should personally apologize and avoid blaming others, as he always does.