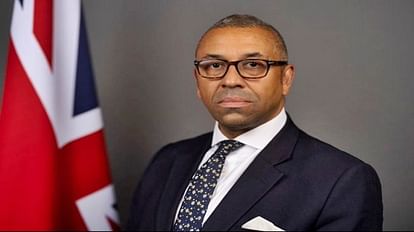 UK Foreign Secretary James Cleverly
– Photo: gov.uk
Expansion
Britain's Foreign Minister James Cleverly is on a visit to China these days, it is believed that Britain wants to improve its relations with China. In view of this, this visit is the first visit of a British top leader to China in more than five years. James Cleverly also called on the Vice President of China during his visit.
Cleverly said on Wednesday that I have had numerous talks with senior representatives of the Chinese government and I have raised human rights in every one of those meetings. He said that this is an issue which is widely discussed not only bilaterally, but also in the United Nations.
British Foreign Minister James Cleverley first met with Vice President Han Zheng and said the visit would further promote the strong and stable development of bilateral relations. He will later meet his Chinese counterpart Wang Yi, the ruling Communist Party's top foreign affairs official who recently took over as foreign minister following the unexplained disappearance of his predecessor Qin Gang.
China cannot be ignored
Cleverly said it is important that we manage our relations with China on a variety of issues. From climate change to epidemic prevention, from economic instability to nuclear proliferation, no important global problem can be solved without China. China's size, history and global importance mean they cannot be ignored.
He further said that China is fulfilling its responsibility on the global stage and responsibility means that China is fulfilling its international commitments and obligations. At the same time, Britain's Foreign, Commonwealth and Development Office (FCDO) said that the purpose of Cleverly's visit to Beijing is to strengthen channels of communication to advance and protect British interests.