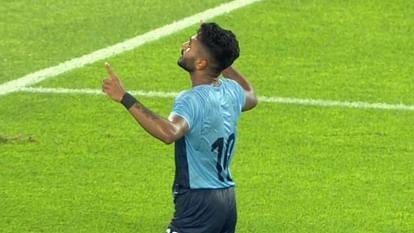 Rahul KP
– Photo: Social Media
Expansion
The official start of the Asian Games will take place on September 23 in Hangzhou, China. Before that some sports competitions have started. The Indian men's football team is playing its first match on Tuesday (19 September). Its competition is against host China. The play of the first half continues. China scored the first goal of the match. For that, Jao Tianyi scored the first goal in the 16th minute. Rahul KP scored the first goal for India in injury time (45+1st minute). After halftime, Beijun Dai scored in the 51st minute. China is now ahead 2-1 in the match.
What happened in the first half?
The Chinese team has made an aggressive start. In the first six minutes he made two quick attacks. The Indian defender somehow did not allow the ball to go into the goal post on both the occasions.

Indian captain Sunil Chhetri made a brilliant attempt to score from outside the box in the 14th minute. His direct shot went over the goal post.

China broke the 0-0 deadlock in the 16th minute. Go against him on the corner. Tianyi scored a brilliant goal. By the time Indian team goalkeeper Gurmeet could do anything, the ball had gone into the goalpost.

In the 23rd minute of the match, India's goalkeeper Gurmeet made a big mistake. He tried to stop Chinese player Tan Long in the box. The referee declared his attempt a foul and gave a penalty to China. Gurpreet was shown a yellow card. However, after this he corrected his mistake and made a great comeback. Gurmeet did not allow China captain Chenji Zhu to score a penalty. He saved the penalty and saved India from trailing 0-2 in the match.

India came back into the match just before the halftime announcement. In injury time (45+1st minute), Rahul KP scored a brilliant goal. The Indian team came to a draw of 1-1.
China leads the group in FIFA rankings
Under the captaincy of Sunil Chhetri, India is eyeing a winning start. Apart from India and China, there are teams from Bangladesh and Myanmar in Group A. Talking about FIFA ranking, China is at 80th place and India is at 99th place. Myanmar is at 160th and Bangladesh at 189th.
Over in Hangzhou, here's how the #BlueTigers 🐯 will line up 📄

@SonySportsNetwk , @SonyLIV#CHNIND #19thAsianGames #IndianFootball pic.twitter.com/MVsXEqyHif

— Indian Football Team (@IndianFootball) September 19, 2023