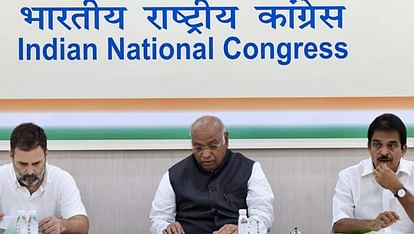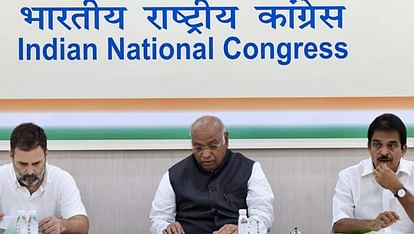 Congress Working Committee meeting
– Photo: Social Media
Expansion
The extended working committee meeting of Congress was held in Hyderabad on Sunday. The meeting ended with confidence that the party would win the upcoming assembly elections and Lok Sabha elections. The party's extended resolution said that 'the meeting of the Congress Working Committee ends by expressing the confidence that the Indian National Congress will secure a decisive mandate in the soon to be Chhattisgarh, Madhya Pradesh, Mizoram, Rajasthan and Telangana. Also, the preparations of the party organization are complete for the upcoming Lok Sabha elections, which are proposed in April-May 2024.
Congress President Mallikarjun Kharge during the meeting advised the party leaders to keep aside personal differences and asked them to give priority to the success of the party. Kharge also called for discipline and unity from party leaders. Kharge said that there are signs of change in the country. The assembly elections of Himachal Pradesh and Karnataka are proof of this. The Congress President has targeted the Modi government on the issue of one country, one election. He said that the party people should be prepared for the assembly elections to be held in Jammu and Kashmir. Now is not the time for us to rest. In the last ten years, the challenges faced by the common people have doubled under the BJP rule. He said that all strength will have to be used to remove the dictatorial government at the Center from power.
These proposals were passed in the meeting
Earlier in the Congress Working Committee meeting on Saturday, it was decided that the party should stay away from controversial issues and should not get entangled in it. It was said in the meeting that instead of the ongoing controversy regarding Sanatan Dharma, the focus should be on the poor and their issues. Also in the meeting, a condolence resolution on the demise of former Kerala CM Oommen Chandy, a condolence resolution on Manipur and a condolence resolution on the disaster in Himachal Pradesh were passed. The party has demanded that the disaster in Himachal Pradesh be declared a national disaster.