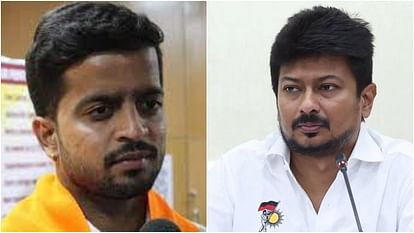 Tushar Dedha, Udhayanidhi Stalin
– Photo: Social Media
Expansion
Akhil Bharatiya Vidyarthi Parishad (ABVP) has won three posts including the post of President in Delhi University Students Union Elections (DUSU Election). Newly appointed DUSU President Tushar Dedha has said that people like Udhayanidhi Stalin, who make objectionable statements on Sanatan Dharma without any reason, should control their tongue. 140 crore people live in this country and people of many religions and sects live there. Everyone's sentiments should be respected and people holding responsible positions should not make any statements that create hatred in the society.
Tushar Dedha, who won with a huge majority in the DUSU elections declared on 23 September, told Amar Ujala that Delhi University is like a 'mini India' in itself. Children of every religion and community from every corner of the country, every province come here to receive education. They will work equally for everyone and will take everyone's cooperation in this. He said that it is everyone's responsibility to provide a comfortable environment for every student in Delhi University and he will complete this work by taking everyone along.
Victory was achieved due to nationalist ideas
Tushar Dedha said that at present the feeling of nationalism is at its peak among the youth of the entire country. The biggest reason behind his victory was the support of a large number of youth for nationalist ideas. This ideology will continue to progress in the times to come. He said that the youth inspired by nationalism is the biggest asset for the country and this generation will make the biggest contribution in taking India to the top position in the world. He will support the students of Delhi University in pursuing their every dream.