Today, on 10 September 2023, a teacher felicitation ceremony was organized by the Rotary Club of Patna City at BIA Hall, Patna, located on Singh Library Road.
On this occasion, 91 teachers were honored for their role as teachers in various fields and for their contribution in nation building. The chief guests in the program were former Governor Shri Ganga Prasad, Shri Shyam Rajak (former Minister, Government of Bihar), Mrs. Sita Sahu (Mayor, Patna), Mrs. Reshmi Chandravanshi (Deputy Mayor, Patna), Prof. Shri Ram Bali Singh (Member, Bihar Legislative Council), Shri Rash Bihari Singh (Vice Chancellor), Shri Mrityunjay Kumar (State Spokesperson, Rashtriya Janata Dal), Shri Dhrub Kumar (Journalist) and many respected members were present.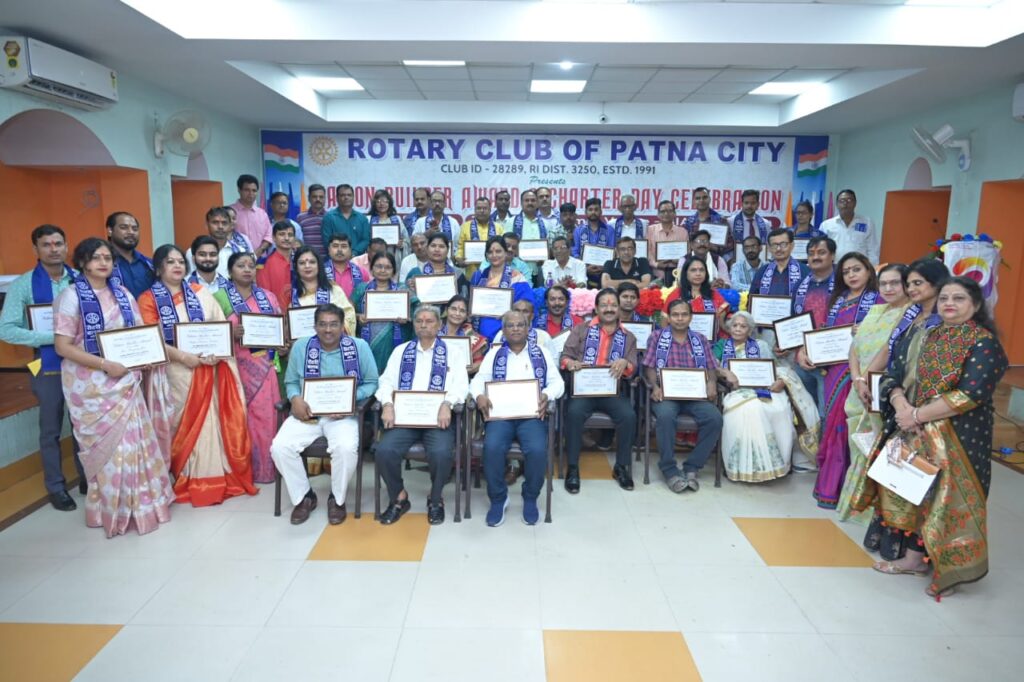 On the spot, Dr. Shankar Prasad, Rajesh Kumar Sahni, Ajay Prakash, Edward Alphonse, Ashfaq Iqbal, Subhash Ballabh, Mukesh Raj, Amarendra Kumar Thakur, Gopal Sharan Sah, Dr. Prem Kumar, Pankaj Kumar Sinha, Rajesh Kumar Pandey, Sanjay Kumar Alebla, Dr. A total of 91 teachers including Sarvadev Prasad Gupta, Mohit Kumar, Paritosh Kumar, Priyanka Roy, Tarun Roy, Shubhangini Gupta were honored.
The program was conducted by Ro Rajesh Raj and the vote of thanks was given by Ro Rajesh Ballabh alias Munna Yadav. The organization's President Ro Ravi Preet, Secretary Pinku Mehta, Amit Anand, Kavi Seni, Sachin Sharma, Anant Arora, Raj Kumar Rajan, Krishna Kumar Yadav and many respected members were present with dignity.
Sincerely
cry ravi shankar love
chairman
Ro Rajesh Ballabh alias Munna Yadav
coordinator
Ro Ashwani Raj
Secretary