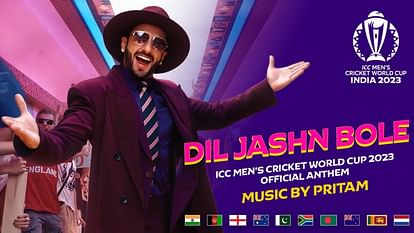 Dil Jashan Bole, Ranveer Singh
– Photo: Social Media
Expansion
Only two weeks are left for the ICC World Cup 2023 to start. The anthem of this event 'Dil Jashn Bole' has been released. This anthem has been shown brilliantly. Bollywood superstar Ranveer Singh is in an important role in this. This song has been composed by well-known musician Pritam.
Movies Clash: War between South vs Bollywood will be seen in the beginning of 2024, there will be a clash between two superstars
What did Ranveer say at the anthem launch?
This anthem takes you on a journey through India on the One Day Express. You would have never seen this kind of celebration before the World Cup. Regarding the anthem launch, Ranveer Singh said, 'Being a part of the Star Sports family and a cricket fan, it is truly an honor for me to be a part of the anthem launch of the ICC Men's Cricket World Cup 2023. It's a celebration of the game we all love.
Bollywood Actors: These stars do not have faith in God, they run away in the name of religion
Pritam said this about the anthem
Meanwhile, Pritam said about this anthem, 'Cricket is the biggest passion of the country. Everyone in India likes cricket. It is a great honor for me to create 'Dil Jashn Bole' for the biggest World Cup ever. This song is not just for the 1.4 billion Indian fans but for the entire world. That's why come to India and be a part of the biggest celebration of this celebration.
Shubhneet Singh: Shubhneet Singh's 'Still Rollin' Indian tour cancelled, Book My Show shared information
Emotions of cricket lovers related to the anthem
Let us tell you that the anthem video has connected with the emotions of all the cricket lovers of the world. This involves the sentiments of fans and countries of different cultures. Which is designed to resonate in everyone's hearts and minds. This anthem has become a symbol of cricket along with the national pride of all the competing countries on the occasion of the World Cup.
TV Actresses: From Shehnaz Gill to Rakhi Sawant, these beauties have made fun of marriage on national television.
Share your video with this hashtag
Fans from all over the world have also been invited to perform the hook-step at different locations around the world. Be it cricket stadium, educational institution, historical buildings or stage. All fans have to do is create their own team and share the hook-step on Instagram and Facebook with the hashtag #CWC23. The best videos will be curated to create a fan anthem that captures people's enthusiasm for cricket.
Welcome 3: Lara Dutta is very curious about 'Welcome 3', said this about Raveena Tandon