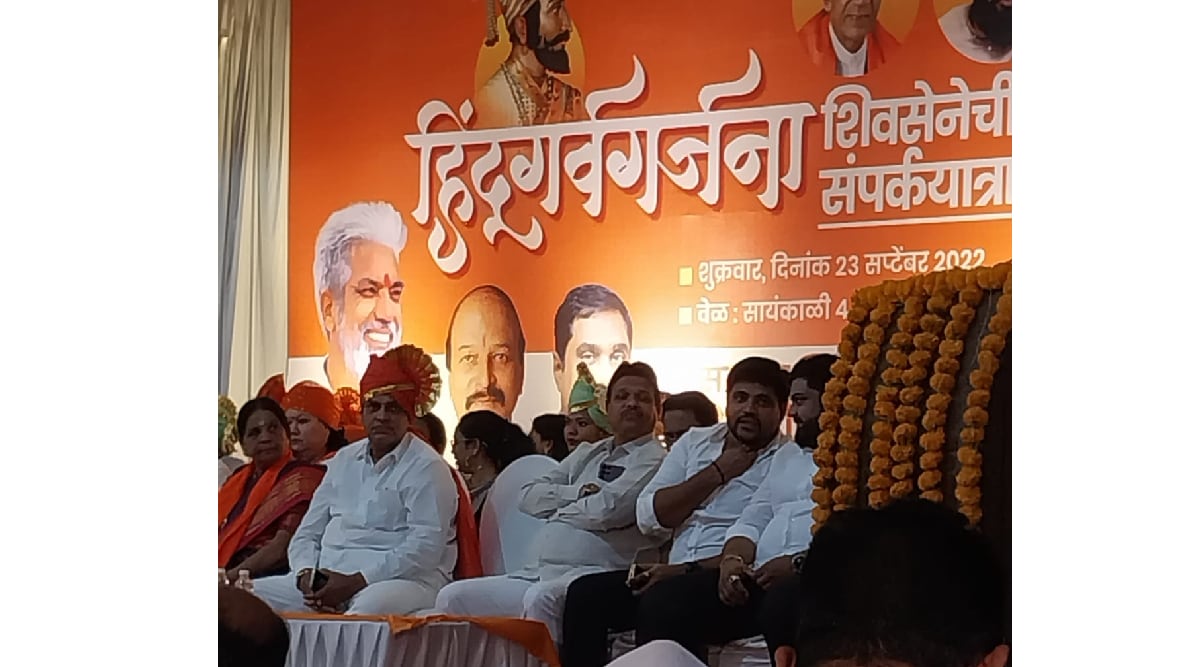 Dadar's Shivaji Park ground for the Dussehra gathering was overwhelmingly positive. The seating capacity of this ground is only 50,000. In the meeting called for Dussehra Melawa meeting in the closed hall in Dombivli, if three halls in one building were packed with Shiv Sainiks, then we will have to see a ground with a seating capacity five times more than Shivaji Park, State Ports and Mines Minister Dada Bhuse said on Friday. Given here.
Also read >>> NCP agitation in Badlapur
The number of women in the Dussehra Purva Mela meeting in Dombivli is more. Minister Bhuse also said that as all the women in the state support the Chief Minister Eknath Shinde's government, seeing this active support, the Chief Minister Eknath Shinde will announce a grand brother-in-law gift for all the women in the state on the coming Diwali. It was done in the Patidar Bhavan auditorium here. Eat at this time. Dr. Shrikant Shinde, Mr. Vishwanath Bhoir, Mr. Dr. Balaji Kinikar, district head Gopal Landge, former chairman Dipesh Mhatre, sub-district head Rajesh Kadam, former mayor Vinita Rane, Sheetal Mhatre, Sandhya Wadhavkar were present.
Also read >>> Thane: Shiv Sainiks jubilation in front of Anandashram
Since a bigger ground than Shivaji Park is required for the Dussehra gathering, if it is not available in Mumbai, we will look for it in Thane. Otherwise our Dussehra Mela should be held in Nashik. After becoming Chief Minister, Shinde started his first tour of the state from Malegaon. Therefore, Minister Bhuse said that if we are given this opportunity, we will take advantage of it. For one and a half months, traitors, boxes, daggers, fathers have been taken from the front. Shiv Sena chief Balasaheb Thackeray is our father. You are challenged to take their pictures and show them by contesting the elections. Narrow thinking suggests this. On the contrary, you contest the elections without putting up the picture of Shiv Sena chief. Then we will know who the Shiv Sena chief's father was. The Shiv Sainik of today is the brainchild of Shiv Sena chief, Dharmaveer Anand Dighe. He has performed works by placing these gods in front of him. Hence Shiv Sena Pramukh was the father of all loyal Shiv Sainiks in the state. Minister Bhuse explained that the government has issued an ordinance and given him the status of national hero.
Also read >>> New appointments from Uddhav Thackeray; Election of Kishore Patil as Mayor of Badlapur
When elections come, people remember Shivaji Maharaj. When it is over, Maharaj is forgotten. If they have the courage, they should contest the elections without putting up a picture of Maharaj, then the people will take the right decision and make the right choice. The people of the state are happy that a farmer's son has become the chief minister. Bhuse criticized Shiv Sena chief Uddhav Thackeray saying that he has a lump in his stomach. If we were traitors, would lakhs of people have gathered to support Chief Minister Shinde, asked Minister Bhuse. Minister Bhuse said that although the decision is small, it has the interest of common people. In the upcoming municipal elections, saffron will fly over municipalities in Thane district. The crowd now is a sign of that. Shinde said.
Criticism of Vijay Salvi
Kalyan City Chief Vijay alias Bandya Salvi was sick with Corona, then Chief Minister Eknath Shinde went to the hospital to see him wearing an insect. He gave them courage. Rahul Londhe criticized that the same rebellions have now been reversed.