8 blind girls from Rajkot are going to participate in the Lakme Fashion Show on December 18. These 8 visually impaired girls will wear dresses designed by fashion designers and will make a splash on the ramp.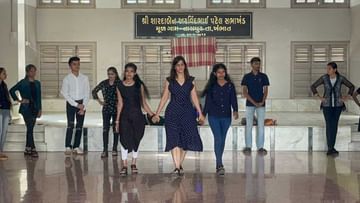 Eight Prajnachakshu girls will walk the ramp in Rajkot
Even though they can't see the world or themselves, even though they don't have eyes, but 8 clairvoyant daughters who see the world with the eyes of the mind are now going to show their skills to the world by doing a rampwalk. 8 Prajnachakshu daughters of Rajkot are going to participate in the Lakme fashion show on December 18. These 8 bright girls will wear dresses designed by fashion designers and will rock the ramp. Giving details about this, organizer Hetshi Shah said that when we got this idea, we were very enthusiastic. We knew it was going to be very challenging. Especially when we are designing the dresses of these people, because these girls are neither kids nor very big. So these are teenagers. What a look to give it. What kind of dress would they be comfortable in? So we have all been very careful.
We have given these girls ankle length and flared dresses. So that they can walk comfortably and walk with confidence. We have dressed according to the skin tone of those people. All these dresses are stitched by Krishnabe. And our entire team has worked very hard. It was very challenging for us when we were doing walk practice. We also learned a lot from those people.
Janvi Chudasma, who participated in the ramp walk, said, We are very excited about this fashion show. Because we had a dream of a fashion show. That we also walk the ramp in this fashion show with a cool dress. Then a team including Boski Ma'am of this institute selected us and made us practice. They used to teach us facial expressions. We were very happy when we got dressed. These people have done a lot for us. I just want to tell everyone that we don't need to fear anything because the people who train us. They teach us everything.
Giving more details about this, Boski Nathwani said, I study fashion designing. This is my 7th fashion show. In every fashion show we invite fashion models from Bombay. They wear student designed dresses. This time also the model for Lakme Fashion Week. But we thought we are going to do something different. So We thought that we should give a platform to those people who don't get a platform for ramp walk..so we approached this organization. These people supported us a lot. These girls were also so talented. 2 days were a bit tough because the fashion show was something different for these people. But then these people started walking very well. After 10 days of hard work these girls are doing proper work.