Irshadgul News report,
key events
51 min. Reda Vardy and Peito Mouavaca replace Cyrille Ballay and Julien Marchand for France.
What we've learned is that Wales upset France by scoring first and they are now 27 points behind with half an hour left. It might even be uglier than a Toyota.
try! France 34 – 7 Wales (Gael Fikou)
48 min. Wells almost had the ball from a spill in the French 22, but Ntamack covered it and then launched a counter-attack with Ramos dummying and Tompkins stepping inside. He's close to being free and clear, but Tompkins, to his credit, turns around and somehow holds on.
It didn't matter, a few steps later, Ntamack again – drifting perfectly across the line – pops for Fickou at a lovely angle into open space to score despite a desperate attempt by Adams to cover. .
Ramos inevitably transforms.
45 min. Warren Gatland decided it was time to change things up off the bench.
Dafydd Jenkins, Gareth Thomas, Bradley Roberts come in for Alun Wayne Jones, Wynn Jones and Kane Owens.
try! FRANCE 27 – 7 WALES (UNIA Antonio)
44 min. Dupont opts to scrum from a penalty in the 22. He runs a few steps from the scrum, then drops it to Antonio who is two meters out with only Reece Jammitt between him and the line. In an unfair competition the big prop definitely wins.
Ramos converts.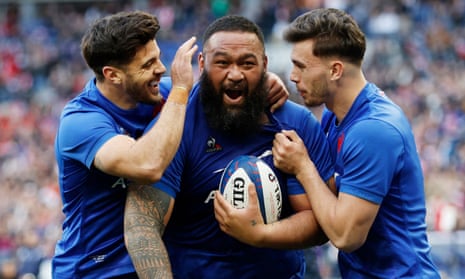 42 min. Well, the first few minutes of the half bring 11 steps from France that drag Wales all over, move up the pitch and go into the 22. Fletau caught a glimpse of the ball, but was in no position to grab it as he was not on his feet.
We're back, and let's see what the next forty minutes bring.
Early France's effort is worth your consideration, so here it is in all its glory.
"Hi Lee," tweets Tom Paternoster-Howe, "with all his poor passing, do you think Wales are heeding Nick Berry's famous belief that every loser wins? Hone!"
I'll be the judge of the honking-worthiness of any attempted ginger around here, Sunbeam.
40 min Wales try to run out from their own 22 late in the half, but France marshalled their defense well and forced Adams to finish the half.
37 min, Danti has a big run in the first leg, covering twenty metres. He is dropped by Tipuric, asking Dupont to pop who finds Penaud almost right, but the pass is behind the winger and in contact.
Slowly, surely there is a feeling that France has recovered from the initial shock in Wales and is unleashing more of its potential on the game.
try! France 20 – 7 (Jonathan Dainty)
34 min. France see a blind alley down the middle of the park, but they don't panic until Ramos frees Dupont down the left touchline, and the runners and closers keep coming. After he is pulled down the ball is fired through the touchline with four long passes to the touchline where Dainty is waiting to score in the corner.
Ramos scored the conversion off the post.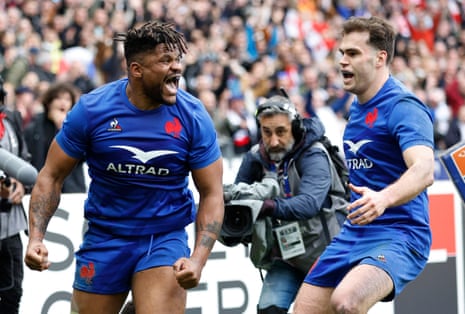 a punishment! France 13 – 7 Wales (Thomas Ramos)
Thirty minutes. Another scandal, another penalty against Wynn Jones vs Antonio. Ramos took the lead off the tee.
27 min. The ball is edged past Dan Biggar by Rhys Webb, forcing Wales 10 back to their 22. He passes the ball to Reece Zemit who goes clear to touch, but it was on the full and so France will have a chance to attack from inside the Welsh 22.
a punishment! France 10 – 7 Wales (Thomas Ramos)
25 min Alun Wynn Jones is being called in for a head injury assessment by the match doctor, and is replaced by Dafoe Jenkins.
On the next breakdown, Wainwright parried Flateau's clearout and this allowed Marchand to hold onto the ball and win the penalty.
Ramos calls for T and puts his side in the lead
21 min. It's another promising period of possession for Wales, with some ambitious offloading from the tackle, constantly changing points of attack and avoiding too many breakdowns for Dainty, Cross et al to make the right messes. However, as is often the case with high-paced gameplans, accuracy eventually suffers as it gets a bit frantic in the later stages.
Still, so far it's going about 1756% better for Wales than anyone expected.
18 min Gayle Fichu could be in trouble here as he lifts Alun Wynn Jones and swings him beyond the horizontal. The TMO takes a look and the referee concludes it was offside but low risk hence only a penalty. Wales has a lineout near the France 22.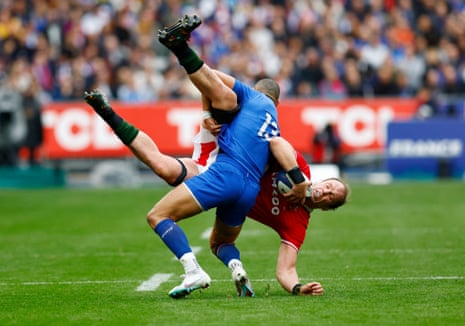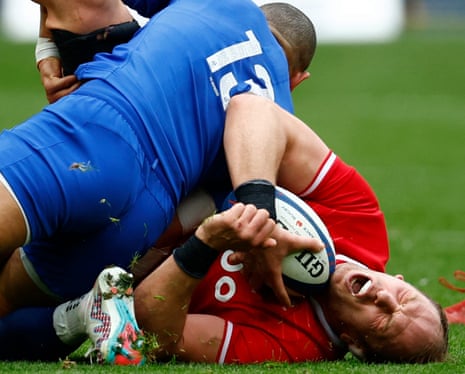 16 min, Uni Antonio knocks into the French 22, and it takes some time to complete the scrum. Wales look like they've done a good job of rotating it a bit to get a good angle of attack, but Antonio presses heavily to force Wynn Jones into a collapse penalty.
13 min. Wales don't let that dismal response from the home side deter them from their fine start as they work in some well-drilled phases to once again gain some ground. Webb fires a beautifully angled kick into the France 22 and Gatland's men will have the ball back with a French exit kick.
try! France 7 – 7 Wales (Damien Peynaud)
10 minutes Ntamack dribbles across the line and steps around Tompkins and into space. He finds Dupont (who else?) in support in the 22 and the little man looks right and volleys a pass out for Penaud over the touchline to score.
Ramos connects the two.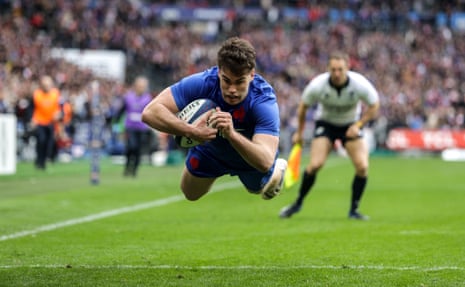 try! France 0 – 7 Wales (George North)
7 min From the lineout, Wales can't find Maul, but they are again working off the pace of the line, with France defending like demons, and inevitably they are offside again, and Biggar is in the corner once again. I went A catch and drive from the lineout splits France who are infringed for the fifth time in the opening minutes, and as the advantage is being paid, North takes advantage of the confusion and runs under the posts.
Big convert.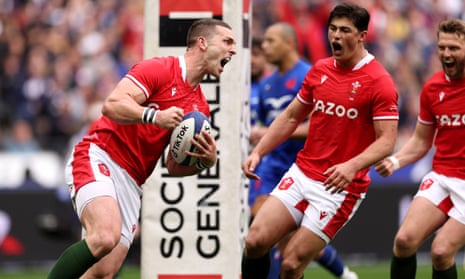 5 minutes Wells is strong again on drop-out returns, with lots of dynamic carries from pick-and-gos around the rack, as well as moving the ball with short pop passes and working the French. They are in the 22 again and Les Bleus are once again offside, but Biggar deflects off the posts and heads into the corner.
3 min France kicks out with little fuss and this allows Reece-Zammit to score on the kick return. Some good moves from Wales follow, with Wynn Jones and Flateau moving well to force the French defense into reverse. Wells drives over from the lineout, but is stopped and Ntamack has to get out from under his posts.
Bright opening for visitors a few minutes.
Dan Biggar has the ball in hand and as referee Nick Berry blows his whistle, the Welsh 10 takes the ball deep into French territory.
Tulupe Fletau leading the Wales team on the occasion of 1st cap and what a player he has been over the past decade, never less than world class.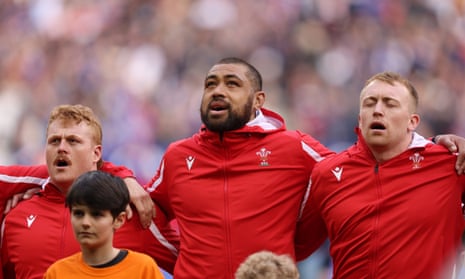 The teams are marching out, and Wales fans are starting to offer their positive thoughts.
pre match reading
Our man, Michael Aylwin, doesn't hold much hope for Wales today, read all about it here.
Fun Game This If you're a Wales fan, what are you hoping to get out of this? Let me know this and more via email or tweet @bloodandmad
A team that wins at Twickenham by 43 points shouldn't need much tinkering; A sentiment Fabian Galthey agrees with as he made just two changes to the team that besieged England last week. Uni Antonio is back to start at tight head from his ban and Romain Ta'ofifenua is in for Paul Willemse.
Warren Gatland is taking a very different approach, as he has throughout the tournament. Changing teams every week, it seems their selection strategy is to throw 40 names into a lottery machine and see which 23 are the first to pop out of the chute. Alun-Wyan Jones is back at lock in six changes this week, and forward Aaron Wainwright returns on the flank. In the backs, Louis Rees-Zammit returns but as a fullback replacement for the crouched Liam Williams, George North and Nick Tompkins rejoin the centers, and Dan Biggar back in the 10 as agromeister-in-chief. They come
France: Thomas Ramos; Damien Peynaud, Gael Ficou, Jonathan Dainty, Ethan Dumortier; Romain Entamac, Antoine Dupont (C); Cyril Bayle, Julien Marchand, Eueni Antônio, Thibaud Flement, Romain Taufenua, François Kross, Charles Olivone, Gregory Alldritt.
Replacement: Peto Mouwaka, Reda Vardi, Sipili Falatia, Bastien Chalureau, Sekou Maclou, Maxime Luku, Yoram Mofana, Melvin Jaminet
wales: Louis Rees-Zammit, Josh Adams, George North, Nick Tompkins, Rio Dyer; Dan Biggar, Rice Webb; Wynn Jones, Kane Owens (c), Tomas Francis, Adam Beard, Alun Wynn Jones, Aaron Wainwright, Justin Tipuric, Tulupe Faletau
Replacement: Bradley Roberts, Gareth Thomas, Dillian Lewis, Dafydd Jenkins, Tommy Reiffel, Tomas Williams, Owen Williams, Leigh Halfpenny
Welcome to Act II of Super Saturday, the part where things start to get a little interesting regarding the outcome of the championship. To try to keep it as simple as possible, if Ireland win the latter, they will obviously win the whole show, Grand Slam and all; But if Andy Farrell's men lose without the bonus points, it's time to get out your calculator and diagram the multiple results.
If France claim victory with a bonus point – which looks a very likely result after last week – they will win the tournament (reminder, only if Ireland lose without the bonus point). If France win without the bonus point today, they will have to better the points difference over Ireland, who currently have 20 better than Les Bleus. still with me? No? Good..
All those mind-boggling permutations aside, the ask of France is a simple one: win as many points as you can muster, then hope to reverse the miracle in Dublin.
Many questioned whether awarding bonus points to the Six Nations was a good idea, but they could have made the final day a little more interesting. The downside is that I've had to type "bonus point" in the preamble of a match, which no one is going to like, including me.