How will the 'Save Women' and 'Save Daughters' campaigns help end gender-based violence?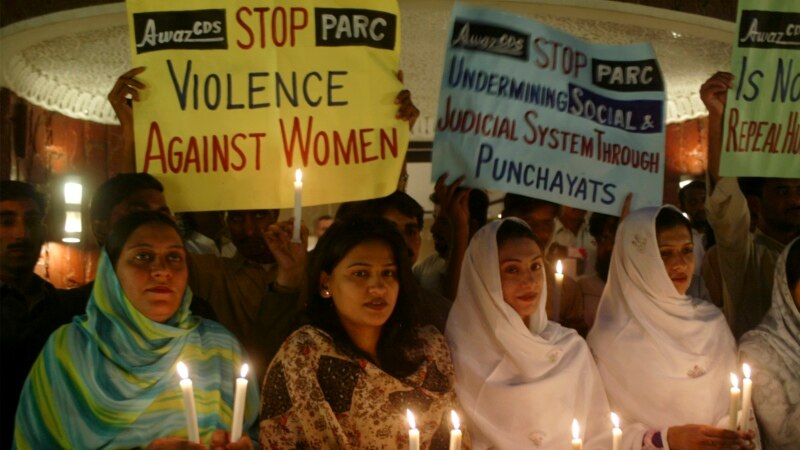 Lahore –
The recent death of medical student Noshin Kazmi at Chandka Medical College in Larkana, Sindh, has been termed as immediate suicide by the people, while no post-mortem report of the incident has been received so far. This is according to Kalpana Devi, Additional Advocate General of Sindh, who believes that in cases of abuse or violence against women, people should refrain from giving their opinion immediately.
According to him, punishments will not be carried out until the violence against women is stopped. It will be difficult to prevent such incidents. "People know that there is no punishment here," he added. Due to which incidents of violence against women are happening again and again.
It may be recalled that a 16-day campaign has been launched across Pakistan on November 25, the International Day for the Elimination of Violence against Women. included.
The campaign has been launched in all four provinces of Pakistan in collaboration with the United Nations Development Program. In a message on the social networking site Twitter, the UNDP said that real progress could not be made unless violence against women was eliminated.
Additional Advocate General of Sindh Province Kalpana Devi believes that various campaigns of Save Women and Save Daughter are going on everywhere including Pakistan at present. However, violence against women and other complaints may increase Is.
Speaking to VOA, Kalpana Devi said that violence against women and breaking the law were on the rise in the subcontinent. The reason is that there is no campaign to enforce such laws. Which Pakistan and other countries desperately need. Regarding the 16-day nationwide campaign to end violence against women, Kalpana Devi said that the campaign was necessIG to create awareness among the people but it was also important to know how such laws would be enforced.
Kalpana Devi believes that such campaigns are usually carried out in big cities, but in remote backward areas where such campaigns are most needed. The message does not reach there. He said that the campaign in Sindh province started from the office of the Chief Minister. After the program, he complained to the Chief Minister about how the people for whom the function was meant would know.
According to Sajeela Naveed, Director, Punjab Women Development Program, the 16-day campaign in Pakistan will feature reports on child marriages across the province, gender equality report and economic welfare survey. After which work will be started on the suggestions given in the light of these reports.
Talking to VOA, Sajeela Naveed said that the vision of Punjab Women Development Program in this year's 16 Days Campaign Against Gender Based Violence is to ensure equal rights for women without any gender discrimination. She emphasized the importance of development policy and said that protection of women's social, economic and social rights was paramount. This is followed by women's right to democracy and political autonomy, equal access to education and employment opportunities for women, easy access to quality health care for women, elimination of negative and discriminatory attitudes and all forms of discrimination at all levels. Ensure an end to gender-based violence.
Imran Qureshi, director of the Punjab Commission on the Status of Women, a security and advocacy body in Punjab, said the 16-day campaign was aimed at spreading awareness among the people about women's rights. Whenever a day or more is set aside for a purpose, all the attention is focused on it.
Talking to VOA, Imran Qureshi said that crimes against women are common in Punjab province. Violence is at the forefront of this, which has seen a huge increase in the days of lockdown.
Imran Qureshi said that through the helpline, emails and letters of the Punjab Commission on the Status of Women, most of the complaints are related to violence against women. He said that there was no coherent law in Punjab to prevent all forms of violence against women. Due to which such incidents are rarely reported.
She said there was generally no mechanism for reporting physical, economic and psychological violence against women. According to him, in such a situation, women who lodge their complaints with his department, when they are sent to the police, the police say that it does not fall under their jurisdiction. They should be referred to the Family Courts or the Union Council. However, union councils across Punjab have not been fully operational for the last three years. Similarly, there are complaints about harassment of women. According to him, large districts of the province where women work in offices. Many women there face harassment in both public and private offices.
But according to Imran Qureshi, whenever a woman complains about being harassed, her response is very weak. He said that in such a situation there are problems like non-existence of inquiry committees and non-compliance with rules. According to Imran Qureshi, in such complaints, women are pressured to settle the matter amicably. After which such women face more anxiety and pressure.
According to Imran Qureshi, non-participation of women in inherited property in Punjab is also one of the major issues. The government has made a new law to remedy this. A number of complaints are also coming to light on this. The female ombudsman has been given the authority to hear these cases but due to excess of cases and other pressures, the progress on these cases is affected.
Imran Qureshi said that more institutions and their subsidiaries should be set up to prevent all kinds of crimes against women. Giving the example of his own office, he said that there is only one institution in Lahore for 36 districts of the province. The government should set up offices at least at the divisional level of this institution.
The 16-day campaign to end violence against women is supported by the United Nations. Which will be adopted in all member countries. Under which the elimination of all forms of violence against women will be discussed. In Pakistan, the campaign will continue in collaboration with the federal and provincial governments.
Events during the campaign will be attended by MPs, women's rights organizations, human rights organizations, experts and government figures.
The 16-day campaign to end violence against women around the world, including in Pakistan, will start on November 25, 2012 and will continue till December 10, 2012.

news from:خبریں – وائس آف امریکہ
#Save #Women #Save #Daughters #campaigns #genderbased #violence