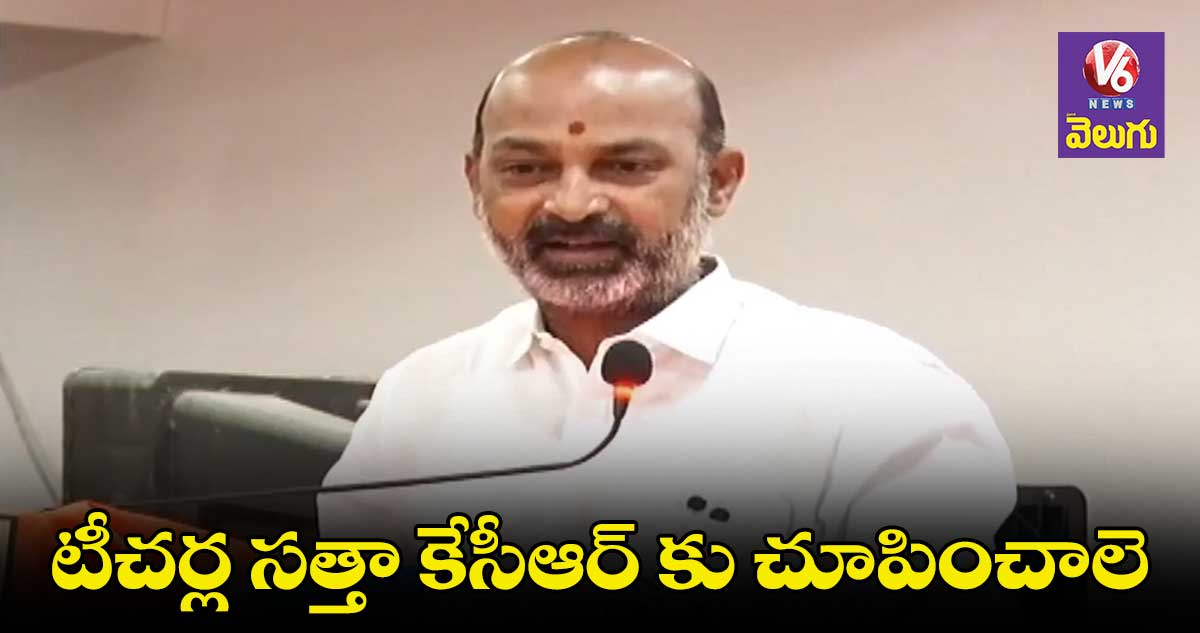 Medical: Bandi Sanjay, state president of the party, said that if the BJP comes to power in the state of Telangana, salaries will be given to the employees and teachers on the first date. All the pending DAs will be paid within a month. "We will appoint PRC.. We will amend 317GVO.. Teachers think for a moment before voting.. Show your mettle in MLC elections.. Ram Rajyaam is coming under Modi with the blessings of all of you.. Teacher MLC elections are not only about teachers.. There is no other election until assembly elections.. Elections are going to determine the future of Telangana people. Remember the sufferings of the poor in Telangana and vote.. In the past, Chief Ministers used to fulfill whatever promises they made, but CM KCR only gave whatever he promised.. Distributing checks to Punjab is not valid. If we talk about Pakistan, Sri Lanka and China, those countries have reached the level of begging. The plight of not being able to pay salaries on the first day. KCR is under the impression that teachers cannot do anything even if they are not paid. Bandi Sanjay commented that KCR should get a taste of what the teachers are capable of in the MLC elections. Under the auspices of the Telangana Regional Teachers Union (TPUS) at AMR Gardens in Kompalli, Medchal district, BJP teachers organized a teacher and teacher spiritual meeting to strengthen the candidature of MLC candidate AVN Reddy. BJP state president Bandi Sanjay, former MLC Ramachandra Rao and Mohan Reddy attended the program as chief guests.
Bandi Sanjay asked why the problems of employees including PRC were not discussed in the cabinet. All the debts of the state can be cleared only with BJP. He said that if there was no BJP, there would have been a situation where the employees would have been paid every 3 months. For each teachers union Rs. He alleged that CM KCR is trying to buy votes by giving 5 crores. They said that they are damaging the honor of teachers by advertising that they are giving Rs.20 thousand for each vote. He commented that if BRS wins for the third time by mistake, KCR's pride will surely rise. He questioned where KCR will get the money for construction of houses for Dalits and the poor. He said that it is sad that the problems of teachers were not mentioned at least in the cabinet meeting.
Bandi Sanjay said that during Kavita's tenure as an MP, the women's bill was not discussed even once in the parliament. He said that it is a shame to chase after the Samajwadi Party and RJD parties, which tore the copies of the Women's Bill in the Parliament. People were laughing at the initiation given by Kavita. He said that the state government had put surveillance on him with the intelligence personnel. BRS leaders who responded when ED notices were given to MLC Kavita.