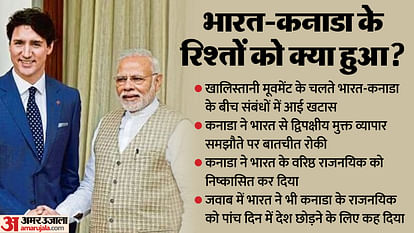 India-Canada relations.
– Photo: Amar Ujala
Expansion
The controversy that started after Canadian PM Justin Trudeau's allegations regarding the murder of Khalistani terrorist Hardeep Singh Nijjar is deepening. At the same time, after the threat from pro-Khalistan organization Sikh for Justice (SFJ), the Indian Foreign Ministry has issued a travel advisory for Indians living in Canada and Indian students studying there.
In view of the violent activities in Canada, the Ministry of External Affairs has asked Indians living there and people traveling to the country to exercise extreme caution. The Ministry of External Affairs said that in view of the increasing anti-India activities and politically condoned hate crimes and criminal violence in Canada, all Indian nationals present there and those considering travel are urged to exercise extreme caution. Recently, criminals living there have particularly targeted Indian diplomats and sections of Indians. Indian citizens are therefore advised to avoid traveling to areas and potential locations in Canada where such incidents have been observed.
Earlier, Gurpatwant Pannu, declared a terrorist in India, released a video and threatened the Indians living there. In the video he asked the Hindus living there to leave Canada. In the video, Pannu can be heard saying leave Indo-Hindu Canada, go to India. She said that those who not only support India but are also supporting the suppression of speech and expression of pro-Khalistan Sikhs. They should leave Canada immediately.