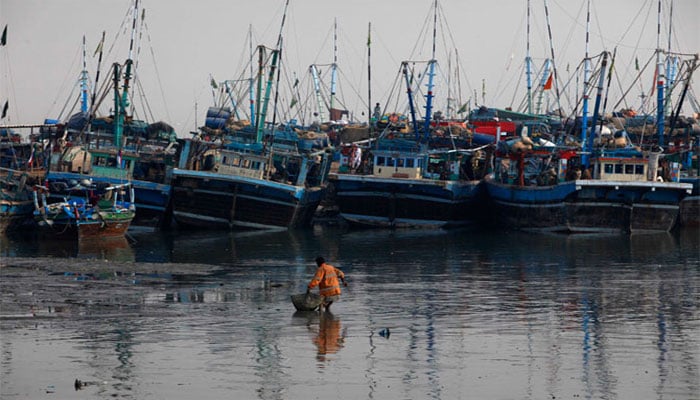 Fishermen in coastal areas of Sindh and Balochistan, including Karachi, have been barred from hunting in anticipation of Hurricane Taota, while efforts are being made to contact fishermen already in the deep sea to call for their immediate return. Has been
According to a spokesman for the Fisher Folk Forum, contacts have begun for the return of the fishermen, but there are still dozens of launches at sea.
He said that voice calls were being made from the launches of deep sea fishermen. Dozens of ice-laden launches had left for hunting five days before Eid.
A spokesman for the Fisher Folk Forum added that some of the launches that had been on the hunt for a month had returned early due to danger.
He also said that fishermen from Ibrahim Haideri, Rehri Goth, Kaka Pir and Kemari have stopped hunting.
According to Fisher Folk Forum leader Gulab Shah, the boats that had gone hunting in the deep sea due to Eid had returned. The fishermen have parked the boats on the shore.
He said one or two boats were left at sea, which were being recalled, while the situation on the coastal strip of Kati Bandar is currently normal.
Talking to Geo News, Coastal Media Coordinator for Fisher Folk Forum Kamal Shah said that the launches that went to sea before Eid have not returned yet, while many launches have returned from the deep sea.
He also said that no steps have been taken by the government for the fishermen so far.
An alert has been issued by the Thatta district administration in view of the impending hurricane.
According to Deputy Commissioner Thatta Usman Tanveer, fishermen have been barred from going out to sea for three days, while revenue staff have been directed to monitor the situation along the coast.
He also directed all the officers to be present at the headquarters and said that all necessary steps should be taken to deal with any possible situation.
According to Deputy Commissioner Badin Agha Shahnawaz, the fishermen have been warned of the danger of a possible hurricane and all the fishermen have returned from the deep sea.
He added that fishermen have been instructed not to go hunting, while fishing in the sea has been banned.
On the other hand, Fisheries Balochistan has also stopped fishermen from the coastal areas of the province from going to sea due to the storm.
According to a statement from Fisheries Balochistan, a tropical cyclone is forming in the southeastern Arabian Sea, due to which the waves may hit the coastal areas of Balochistan with intensity from May 15 to 20.
The statement said that strong winds could hit the coastal areas of Balochistan and take the form of storms, meanwhile heavy rains could also occur in the coastal areas of Balochistan.
Fisheries Balochistan has directed fishermen not to go into the deep sea from May 15 to 20.