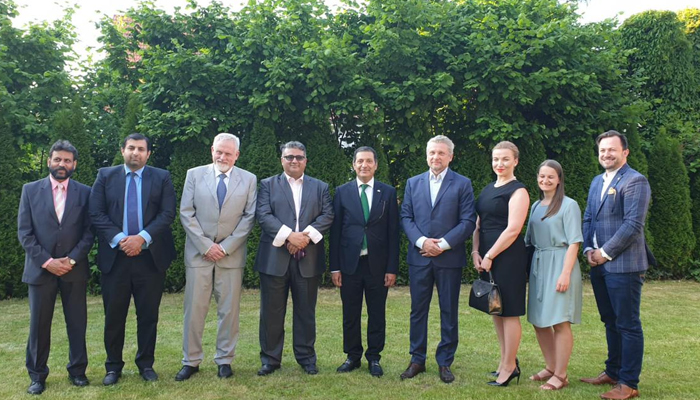 In the Czech Republic, a member country of the European Union, the Czech Pakistan Chamber of Commerce has been formally inaugurated.
In this regard, a dignified ceremony was held at the Embassy of Pakistan in Prague in which the Ambassador of Pakistan Muhammad Khalid Jamali inaugurated the trade organization.
The event was attended by representatives of companies interested in trade relations between the two countries.
Speaking on the occasion, Ambassador of Pakistan to the Czech Republic Muhammad Khalid Jamali said that the organization was founded in May 2020 but due to restrictions on the global epidemic corona virus around the world, including the host country. The ceremony is now held.
He said that the purpose of forming this trade association is to provide a platform for the business community on both sides to find opportunities for each other.
He briefed the participants on Pakistan's economic development and the C-Pack and other trade opportunities in it.
He apprised the participants about the investor-friendly policies of the Government of Pakistan and said that there was ample scope for cooperation between the two countries in the fields of mining, tourism, IT, aerospace, defense, renewable energy, textiles and vehicle manufacturing. Are
On the occasion, representatives of companies belonging to the Czech Republic appreciated the personal interest of the Ambassador of Pakistan Muhammad Khalid Jamali in setting up this chamber and said that the Czech Republic has advanced capabilities in coal mining, heavy machinery and pre-season engineering.
Pakistani companies can find joint business opportunities with us in this field.
He hoped that the Czech-Pakistan Chamber of Commerce would play an important role in promoting trade relations between the two countries.
Fateha and a minute of silence were observed on the occasion for the train accident in Pakistan and those killed in Canada.
Talking to this correspondent regarding the objectives of the event, Ambassador of Pakistan Muhammad Khalid Jamali said that in total there are 600 Pakistanis including students in the Czech Republic, out of which 15 Pakistani companies are part of this chamber.
In addition, officials of the Pak-Benelux Overseas Chamber of Commerce and Industry have extended best wishes to the Ambassador of Pakistan and the Pakistani members of the Chamber on the establishment of the Czech Pakistan Chamber.
He said that it was a matter of pride for the overseas Pakistani community across Europe to come forward and take part in the efforts to enhance trade relations.
This is the path that can enable us to seek and participate in the development opportunities that exist in the world, to improve all aspects of our country and to increase its prestige in the international arena.