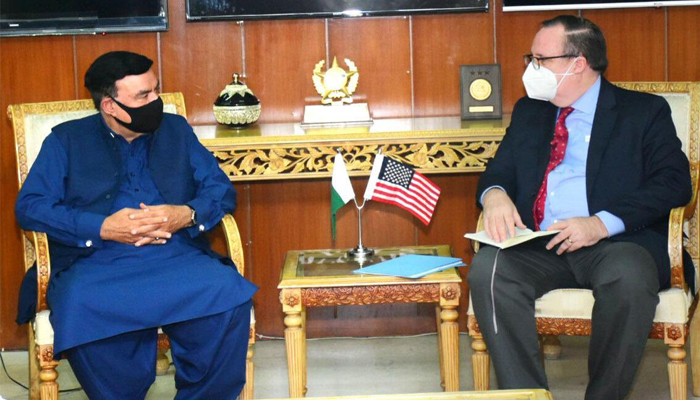 Interior Minister Sheikh Rashid Ahmed and US Deputy Assistant Secretary of State for Pakistan Leslie V. Viguri met.
Issues of mutual interest, including Pak-US bilateral relations, were discussed during the meeting in Islamabad.
Omar Sheikh, involved in the murder of American journalist Daniel Pearl, human trafficking, drug prevention measures and other issues were discussed during the meeting.
The US Deputy Assistant Secretary said that he appreciated Pakistan's recent efforts to curb human trafficking and drugs.
He added that he wanted to speed up the process in human trafficking and drug cases.
Commenting on this, Interior Minister Sheikh Rashid said that the government has enacted two new laws to curb human trafficking.
Sheikh Rashid also said that he hoped that the new laws would help in eradicating human trafficking in Pakistan.
He said that the fence on the Pak-Afghan border was also proving to be very effective in curbing human trafficking.
The interior minister said Pakistan had arrested more than 2,000 people involved in human trafficking last year.
Sheikh Rashid further said that those involved in human trafficking do not deserve any concession, they will be punished according to law.