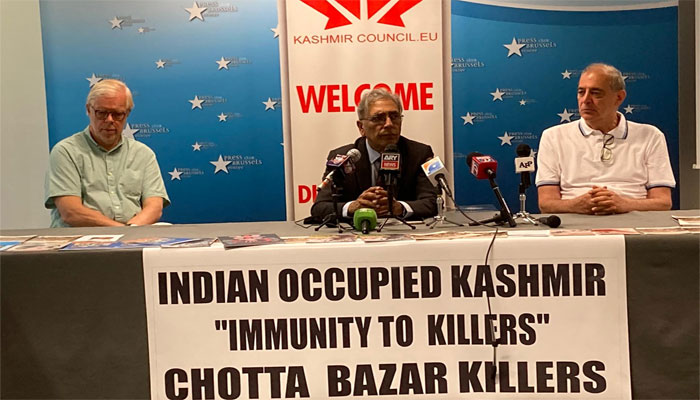 Speakers at a seminar in Brussels have called on the international community not to allow India to change the territorial status of occupied Jammu and Kashmir and change its population ratio.
The seminar on Indian-Occupied Kashmir, Immunity to Colors was organized by the Kashmir Council EU at the European Press Club Brussels. It was attended by experts, intellectuals and people from different walks of life.
The seminar participants paid rich tributes to those who were martyred by Indian troops on June 11 in Chota Bazaar, Srinagar, 30 years ago.
It may be recalled that on June 11, 1991, 32 innocent people were martyred and 22 others were injured in an unprovoked firing in Chhota Bazaar, a densely populated area of ​​Srinagar. The shooting also killed several shopkeepers and passers-by, including a 75-year-old man and a 10-year-old child.
The seminar in Brussels was held in accordance with new guidelines issued by the government for the prevention of corona.
The speakers of the seminar said that even though 30 years have passed since the tragic incident of Chhota Bazaar, this grief is still fresh for Kashmiris, especially those who lost their loved ones in this tragic incident. ۔
The speakers condemned Modi's nefarious plan to separate Jammu from Occupied Kashmir and said that the conspiracy to separate Jammu was a violation of international law, especially in violation of UN Security Council resolutions including Jammu. All parts of Kashmir have been asked to decide the fate of the region through a referendum.
He expressed grave concern over the current situation in Occupied Kashmir and said that the international community should stop the ongoing atrocities in Occupied Kashmir by India. Chairman Kashmir Council EU Ali Raza Syed while presiding over the seminar said that the sacrifices of the martyrs would not be in vain but their mission for the independence movement of Kashmir would continue till its logical conclusion.
Ali Raza Syed said that so far India has failed to cover up crimes against humanity in occupied Kashmir nor has it been able to stop the struggle of Kashmiris. He called on the international community to play its role in ending the persecution of Kashmiris and for a just solution to the Kashmir issue.
The seminar was also addressed by former Swedish MEP Bajur Hilton and journalist Andre Bach. Both stressed that the Kashmir issue, which needs the attention of the world, is not getting it due to various reasons.
Other speakers who addressed the seminar included prominent intellectual Rao Mustajab Ahmed, Khalid Joshi of Kashmir Diaspora Alliance, Councilor Nasir Chaudhry, Councilor Amir Naeem, Malik Muhammad Ajmal, Kashmiri leader Sardar Mahmood, Sardar Siddique Khan and Mir. Shah Jahan and Syed Azhar Shah.