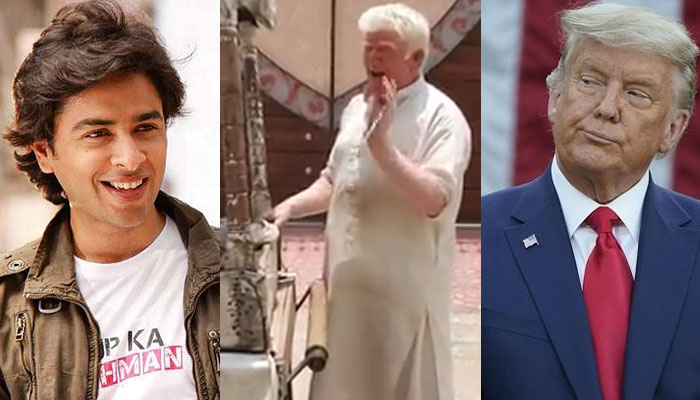 Leading singer and social activist of Pakistan music industry Shehzad Rai has become a fan of former US President Donald Trump's counterpart.
Yesterday, Shehzad Rai shared a video on his verified Twitter account in which a key holder is selling keywords by singing uniquely in his melodious voice.
In the video, it can be seen that the key seller is telling the customers through his singing that khoya and butter are the features of his key, with the help of which he makes delicious key locks.
It is worth mentioning here that the person seen in the video is a Pakistani while his form is very similar to that of former US President Donald Trump.
Appreciating the lock seller's talent, Shehzad Rai wrote in the caption, 'Wow! Brother with the key, what's the matter, I had fun without eating the key. '
Speaking to Twitter users, the singer wrote, "If you know where this lock seller is from? So tell me. '
Asked by Shahzad Rai, a user said, "The uncle with the key belongs to Sahiwal."
While Twitter users praised the keynote seller's unique talent, some described him as a counterpart to former US President Donald Trump.
A user named Imran Khan wrote 'Trump' using amazing emojis.
A user named Shahid Chandio said, "This is Pakistani Trump."
"Has Trump started selling locks?" Khalid Hussain joked.
One user wrote, "Donald Trump selling locks in the Lahore market after the corona virus."
Interesting comments from users continue on this tweet of Shehzad Rai.