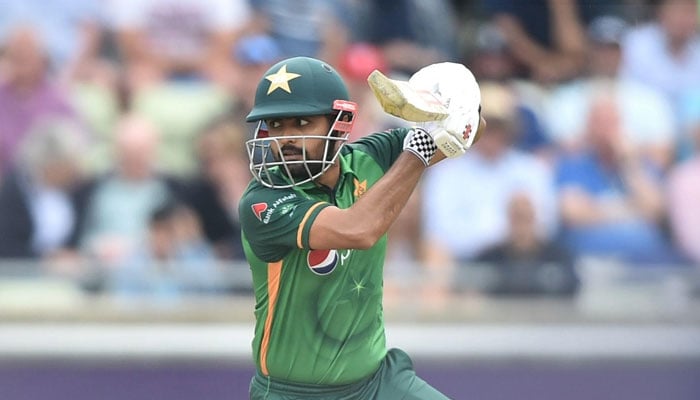 Pakistan captain Babar Azam set a number of records in the last ODI of the series against England.
In the last match of the series being played in Agen, Babar Azam showed his mettle by playing a record-breaking innings of 158 off 139 balls.
His marathon innings included 14 fours as well as 4 high sixes.
During the innings, Babar Azam added 92 runs with Imam-ul-Haq and then 179 runs with Mohammad Rizwan.
In this innings, Babar Azam set many records where he played the biggest ODI innings of any Pakistani as a captain.
Earlier, Shoaib Malik had the record for the longest individual innings of a Pakistani captain in ODIs. He played an innings of 125 in 2008 at the National Stadium in Karachi.
Similarly, Babar Azam has become the first Pakistani captain to score a century in England after 38 years. Before Babar Azam, Imran Khan had scored a century in Leeds in 1983.
With this century, Babar Azam also set a record of completing the fastest 14 centuries.
Babar Azam achieved the milestone in the 81st innings, followed by Meg Lanning, who scored the fastest 14 centuries in 82 innings.
Hashim Amla is third, David Warner is fourth and Virat Kohli is fifth.
Babar Azam has also become the highest-scoring Pakistani on English soil.
He became the first Pakistani to score 1000 runs and 3 centuries in England while Muhammad Yousuf had scored 935 runs on English soil before him.
Remember that Imam-ul-Haq, Fakhr Zaman and Saeed Anwar have scored two centuries each.