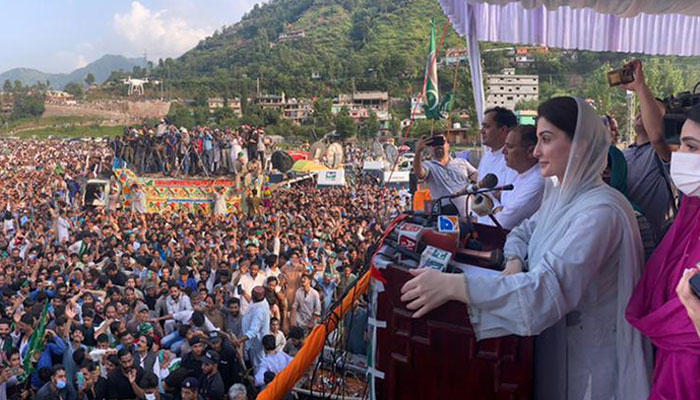 PML-N leader Maryam Nawaz has said that Imran Khan has thrown occupied Kashmir in the swing of Modi. Imran Khan is so arrogant that he is still coming to Kashmir to seek votes.
Addressing a rally at Kotli Court Ground, Maryam Nawaz said, "Promise that we will not allow the sacrifices of the martyrs to be wasted by Imran Khan. Wherever we go, we hear the same slogan. People are already saying go Imran go.
Maryam Nawaz said that after throwing Kashmir in the swing of India, he says what should I do, when weakness is yours, cowardice is yours then why should people mourn.
PML-N leader said that in 70 years India did not have the courage to dominate occupied Kashmir. According to my information, occupied Kashmir went to India with the permission of Imran Khan.
Maryam Nawaz said that Imran Khan had planned to divide Kashmir into 3 parts, you are the culprit, how can his ministers claim victory in Azad Kashmir today.
He said that Kashmir belonged to Nawaz Sharif yesterday and still belongs to Nawaz Sharif today. Imran Khan wants to make Kashmir a province. He heard the same slogan everywhere. Every child will die.
Maryam Nawaz said that Imran Khan has ruined the peace of 22 crore people. When he wakes up in the morning, he hears that sugar, flour, ghee, petrol, electricity and gas are expensive.
The PML-N leader said that those who were preparing to come to Azad Kashmir lined up the people for one kg of sugar in Ramadan. Do you also want to line up for sugar? 20 million people have gone below the poverty line. Have gone