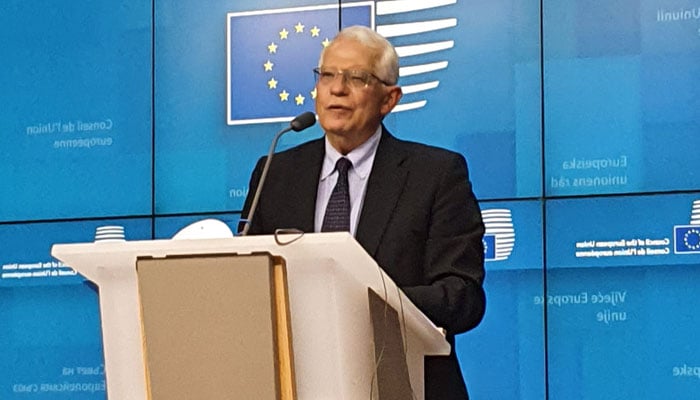 The head of European Foreign Affairs, Joseph Borrell, has said that the European Union, as well as the world, is making every effort to resolve the situation in Afghanistan peacefully and without civil war.
He expressed these views while addressing a press conference after the meeting of the European Foreign Affairs Council in Brussels and later talking to Jang and Geo.
He said that the Foreign Ministers had also considered the issue of Afghanistan in the Foreign Affairs Council.
The civil war in Afghanistan is having a devastating effect on the people, with civilian casualties and accidents rising by 23% in the first quarter of this year.
He said that the European Union strongly condemns targeted attacks against the Hazara community and other linguistic and religious groups. At the meeting, the European Foreign Ministers called on the Taliban to engage in meaningful peace talks. Called on countries in the region and the rest of the international community to play a role in Afghanistan's peace process.
He added that he would discuss the issue with other leaders in the region at a conference in Tashkent, Uzbekistan, in the coming days.
In addition, after the press conference, he was asked by Jang and Geo if there could be a civil war between the Taliban and the Afghan army after the withdrawal of US and coalition forces from Afghanistan, after which Afghan refugees in Pakistan and Iran Large numbers are expected to arrive.
"We will meet with Afghan President Ashraf Ghani at the Connectivity Conference in Uzbekistan and talk to him about Afghanistan, but we are trying not to let that happen and give the Afghan people their own country," said Joseph Borrell, head of European foreign affairs. Not to be outdone, we are using all the necessary diplomatic means.
Earlier, the European Foreign Affairs Council announced 22 22 million in aid to Iran and Pakistan, stating that Pakistan and Iran were the only two countries hosting Afghan refugees. Are