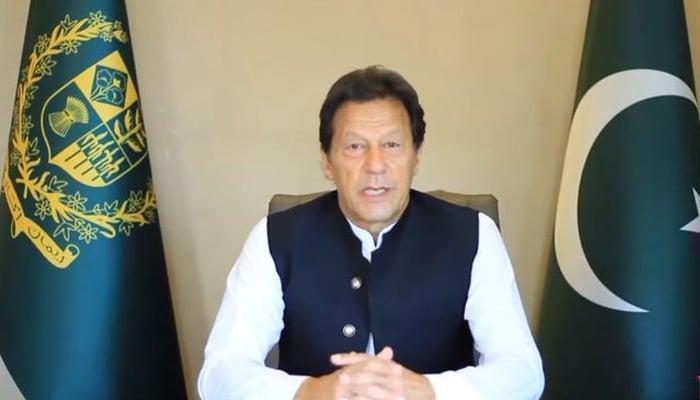 Prime Minister Imran Khan has once again openly criticized former Prime Minister Nawaz Sharif.
Addressing an election rally in Mirpur Azad Kashmir, the Prime Minister said that the weak should go to jail and go out with a strong NRO.
He said that Nawaz Sharif was watching his grandson's polo match in London. Where did the money for the game of kings come from? This is your money.
Imran Khan further said that Nawaz Sharif did not speak on Kashmir issue in his time because he was afraid that Narendra Modi would get angry.
"I have fought the Kashmir case at every forum and told the world that India has a racist RSS government that does not recognize other citizens equally," he said.
The Prime Minister also said that what India had done in August 2019 has failed in its intentions.
He said that Kashmiris never gave up, in occupied Kashmir the youth were blinded using guns, extrajudicial killings were carried out there.
Imran Khan said that when Nawaz Sharif went to India, he did not meet the Hurriyat leaders. India thought that the August 5 move would be quietly digested by Pakistan.
He said that he had decided from his childhood that if Allah gave him a chance, he would fight the case of Kashmir in the world. He told the world that the RSS government in India is racist, oppressing not only Muslims but also Christians. have been.
The Prime Minister said that he saluted the brave youth of occupied Kashmir, 800,000 troops are in Kashmir, if there were any other people in the world, they would have knelt down.
He said that India has done what it was supposed to do, India is trying to change the demographics of Kashmir, I am saying India will fail, it is a war crime.
Imran Khan said that the two major parties had been tearing the country apart for 30 years, they make money themselves, they let the people below make money too.
He said that while voting, do not think of friendship, tribe, community, while voting, see if the party leader is honest and trustworthy or not.
The Prime Minister said that due to resources people are not rich and poor, rule of law and just country are prosperous.
He said that today the courts of the country are independent, why these people have run away, PTI does not control Lahore High Court.
If the courts or the NAB were in control, why would they put their ministers in jail? Maybe a number two man in the PTI has been given a ticket, but when he himself will not steal, how will he allow someone else to do it.
Imran Khan said that we have to bring the powerful under the law, before my government came, Nawaz Sharif's sons had run away.
He said that they took revenge on me, took me to the Supreme Court, I did not run away from the country, whoever asked for evidence, I gave evidence one by one.
The Prime Minister said that I did not steal, I did not run out, these people were returning to the country, so they ran out.