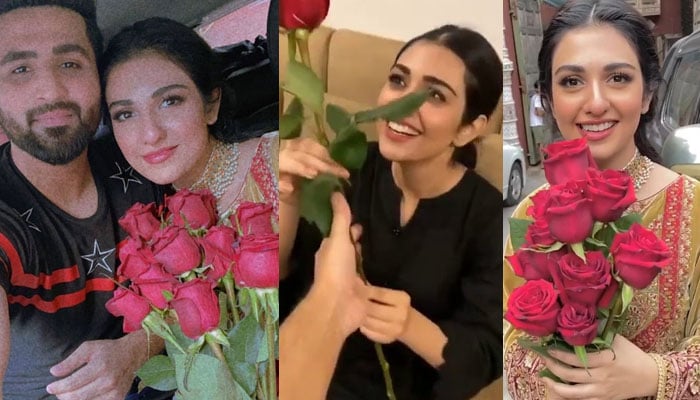 The lovely messages of Sara Khan and Falak Shabbir, the beloved duo of Pakistan showbiz industry, win the hearts of the fans, but the co-stars of Sara Khan also enjoy the spark of the couple.
A video is circulating on social media of the couple attending a recent wedding ceremony in which Mansha Pasha and Momal Sheikh are asking for flowers from Falak Shabbir.
Momal Sheikh and Mansha Pasha ask Falak Shabbir, 'Where are our flowers? Where are the flowers of the year? We should also get flowers.
In reply, Falak Shabbir says, "For years, her husband will give flowers. I have given today's flowers to Begum."
Mansha Pasha tells Falak Shabbir that brothers can also give flowers, we also need flowers.
Since the marriage, Falak Shabbir gives a flower to Sara Khan every coming day. This habit of Falak Shabbir is well liked by the fans of both the artists including Sara Khan.