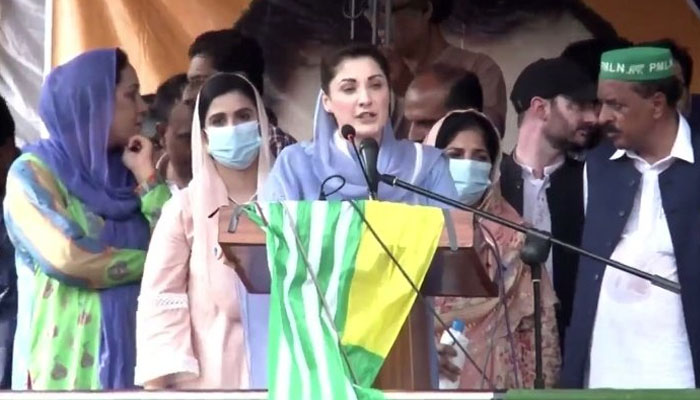 Maryam Nawaz, daughter of PML-N vice-president and former prime minister Mian Muhammad Nawaz Sharif, said the daughter of the Afghan ambassador was alone or traveling in a taxi, adding that security was the government's responsibility.
Addressing the gathering, he said that the daughter of an Afghan diplomat was abducted in broad daylight. Safety was your responsibility.
Addressing a rally at Haveli for the campaign of Azad Kashmir Election 2021, Maryam Nawaz said that the LOC salutes the parents of the martyred sons of Occupied Kashmir, your sacrifices will never go in vain.
He said that Nawaz Sharif and his brothers here will fight the case of occupied Kashmir, Nawaz Sharif has blood relation with Kashmir, only Nawaz Sharif can fight the case of Kashmir, nowadays Imran Khan is a fake lawyer of Kashmir.
Maryam Nawaz said that you will not be handed over to Modi like the selected one. In Pakistan, the greater the patriot, the greater the title of treason. Can't compete in the public arena, the door is open for it.
He said that he was happy that he did not hold a rally near any money machine. Despite the government's expenses, the people of Bagh refused to attend Imran Khan's rally. The people of Bagh welcomed me in a way that I will never forget.
He said that Tanveer Ilyas has been accused of paying a bribe of Rs 1 billion to an officer. He smuggled Tanveer Ilyas to Azad Kashmir from Islamabad. Elias had asked for a Senate ticket from PML-N. He offered Nawaz Sharif Rs. 50 crore in the party fund. Nawaz Sharif replied to Tanveer Elias that they do not sell tickets, they give them to the party.
He asked why the bribe-taker is sitting on the stage with Imran Khan today. It has been decided to form a province by rigging the Azad Kashmir elections. No fake claim of yours will be made in Azad Kashmir.
In her speech, Maryam Nawaz said that she wanted to ask Imran Khan how much money was sold by Sardar Tanveer Ilyas, how many new ATMs were bought by Kashmiris. A government official has been sacked on charges of bribery of Rs 1 billion.
PML-N Vice President said that Nawaz Sharif was thrown into Modi's swing by Modi's supporters. Your successful foreign policy is that China stopped working on C-Pack. The successful policy is to kill ten Chinese in Dasu. Go
He said that name of a friendly country which stands with incompetent, selected government, in Imran Khan's government GDP means gas, diesel, petrol.