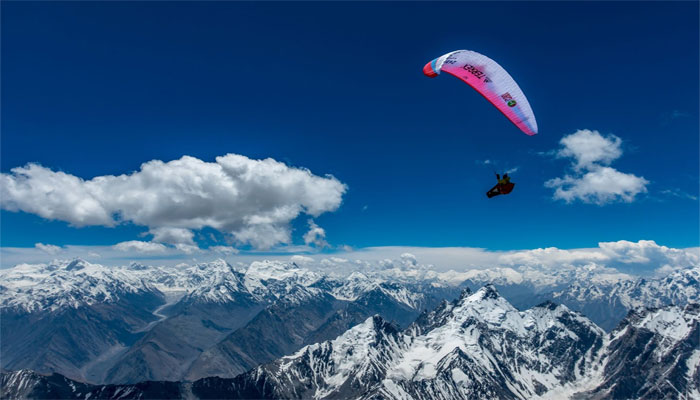 The Pakistan Army Public Relations (ISPR) says the European paragliding team has set a new record in Pakistan.
According to ISPR, the team of paragliders also included the team of Army School of Physical Training Kakul. The paragliders set this record of paragliding at an altitude of 8407 meters.
The ISPR says five of the 14 peaks above 8,000 meters in the world are in Pakistan. Six European paragliders have been in Hunza and Skardu since May 25.
According to ISPR, the paragliders were led by world-renowned paraglider Antine Grad. In June, the paragliders practiced on the Hunza hills.
The Pakistan Army's public relations department says its mission was to set a world record for paragliding. The first world record is 8,157 meters, while the new record is now 8,407 meters.
ISPR said that the record was set by European paraglider Einstein Jarad on the Baltoro Glacier in Skardu. It is a great honor for Pakistan to set the record on its soil.
According to ISPR, famous paragliders of Army School and Physical Training also participated in the practice. The Pakistan Army Paragliding Team was led by Captain Ahsan.
ISPR said that Hawaldar Qasim and Hawaldar Muqit were also involved in the expedition. The team successfully paraglided from 4 to 5 thousand meters high from 4 different peaks.
The ISPR also said that the foreign paragliders thanked the government and the Pakistan Army for the facilities, security and other assistance, adding that the popularity of this world record has further increased the popularity of the northern areas of Pakistan.