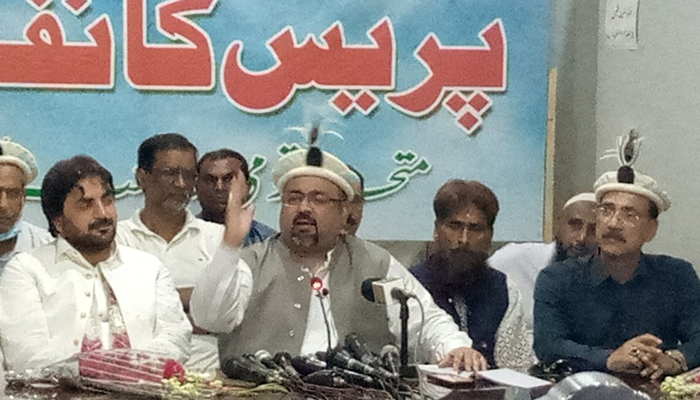 Muttahida Qaumi Movement (MQM) Pakistan leader Khawaja Izharul Hassan has said that Karachi's infrastructure has deteriorated.
During a press conference in Karachi, Khawaja Izharul Hassan said that it has been 10 months since the mayor of Karachi, no work has been done in the city.
He said that the situation was worse where the district chairman was from PPP and his performance would be strengthened in the current monsoon.
The MQM leader further said that the party whose political chain was cut is making its presence felt today, MQM Pakistan is on the path of non-violence.
He said that the chain of four provinces has been merged and has become a link of the province. The Sindhis of Sindh themselves are worried about the PPP.
Khawaja Izhar also said that PPP must be rejected for the development of Sindh, PDM was destroyed due to PPP's deception.
He said that thankfully Nasir Shah went and saw Orangi Town, so he came to New Karachi with perfume.
The MQM leader said that he saw an officer visiting somewhere. Three days ago, Shahra-e-Faisal Chowk was blocked due to rain.
He said that if the inflation is due to the federation, then the provincial government should resign. The PPP even betrayed the PDM in the name of resignation.
Khawaja Izhar-ul-Hassan said that the abuse of middle class and especially the migrants should be stopped. He visited Karachi and said that the condition of infrastructure is very bad.
He said that if the situation deteriorated after the rains, the responsibility would fall on Sindh Chief Minister Syed Murad Ali Shah, adding that 24 hours duty of doctors should be imposed in government hospitals.
The MQM leader further said that in the current monsoon, the fortress of their performance will be opened, they have no choice but to close shops and take extortion.
He said that the activities of Khidmat Khalq Foundation have been revived and a new milestone will be announced on August 14.