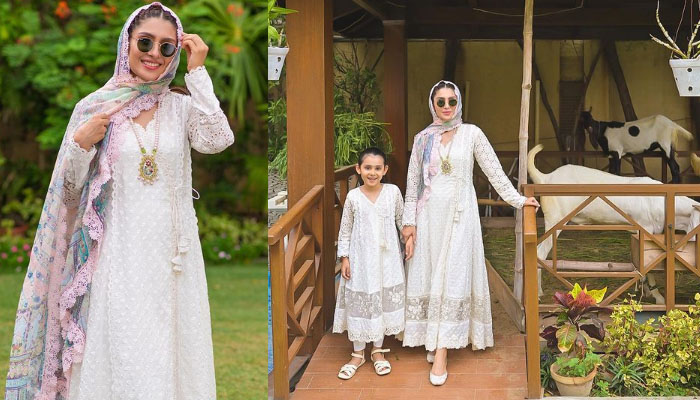 Aiza Khan, the most popular and beautiful actress of Pakistan showbiz industry, shared her beautiful Eid morning photos on social media.
Actress Aiza Khan, who has the highest number of 9.5 million followers on the photo and video sharing app Instagram, has shared her beautiful Eid morning photos on her verified Instagram account.
Along with Aiza Khan, her daughter Hurreen can also be seen in the photos shared on Instagram.
Aiza Khan and her daughter Hurreen chose white dress on the morning of Eid-ul-Adha while their dress design is the same.
Aiza Khan's scapegoats can also be seen in the pictures, numbering three to four.
Aiza Khan wrote 'Eid morning' in the caption of her post.
The actress shared these photos of herself on Instagram just an hour ago, which have been liked by more than one lakh users so far, while the series of comments continues.
Aiza Khan has also shared her other photos which have received thousands of likes.
It should be noted that Eid-ul-Adha is being celebrated today in many countries of the world including Pakistan.