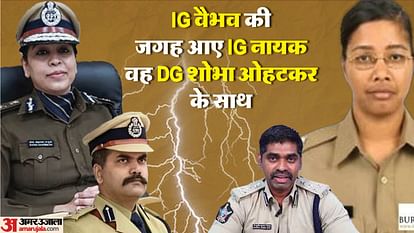 IG Vikas Vaibhav had alleged harassment, now DIG Anusuiya has written 'trahimam'.
– Photo: Amar Ujala
Expansion
Now even the Home Department Minister and Chief Minister of the state Nitish Kumar cannot give such a guarantee that everything is going well in the Bihar Police Department. 'Amar Ujala' was the first to reveal on Tuesday that a lot is happening between the Indian Police Service (IPS) officers serving in Home Guards and Fire Services. DG Shobha Ohatkar has again been accused of harassment and this time a woman DIG has made this allegation. After bringing out that tragic message, when an attempt was made to talk to DIG Anusuiya Ransingh Sahu, he refused, while DG Shobha Ohatkar, who remained silent in the case of harassment of IG Vikas Vaibhav, had a long conversation with 'Amar Ujala'. Meanwhile, he told that IG Sunil Kumar Nayak has sent him a report. When he was directly contacted to know the details about this report, he shocked him by saying – "The female DIG has threatened that she will implicate him in rape by tearing her clothes in his chamber."
Nayak has come in place of Vaibhav, Anusuiya in place of Binod
In February this year, Home Guard and Fire Services IG Vikas Vaibhav had accused his then reporting manager DG Shobha Ohatkar of harassment. He told that the DG also abused him and called him a Bihari slacker. After this tragic message, IG Vikas Vaibhav, who had made allegations of harassment, and DIG Binod Kumar, who fell ill in the office and was taken to the hospital, were relieved from the Home Guard and Fire Services. After a few days, Binod Kumar was posted elsewhere under the Home Department, while the state government made IPS Vikas Vaibhav a consultant on the orders of the General Administration Department and assigned him other types of work. Sunil Kumar Nayak, who came as IG in place of Vikas Vaibhav, has now come to the fore in the DG-DIG controversy. Anusuiya Ransingh Sahu, who joined Home Guard and Fire Services in place of DIG Binod Kumar, is in the news this time.
DIG was wandering in the fair saying she was ill…
IG Sunil Kumar Nayak supported DG
DG Shobha Ohatkar mentioned the report of IG Sunil Kumar Nayak and when 'Amar Ujala' reporter started talking to this officer serving under the DG, he did not show the documents, but narrated everything else. He said- "I had called DIG Anusuiya Ransingh Sahu for review on 23rd August. The DG had given me the responsibility of reviewing his work. On my calling, the DIG said that you have no right to review my work. You cannot call me for any review unless you read the letter written by me. So, I said there is no such thing. I have received such an order that I have to review your work. Have to do it. In this process I am reviewing your work. On this the DIG said that you should not come between me and madam, otherwise you will get into a lot of trouble. I explained to him that it is not a good thing to talk like this. . If you do something wrong, madam (DG Shobha Ohatkar) gives correction. It is not that she (DG Shobha Ohatkar) targets anyone in particular. Whenever I make a mistake, she (DG Shobha Ohatkar) corrects me too. Did. Then I learned. This whole process is to learn from the senior. So, then she started saying that I have got the suggestion that wherever there is no CCTV, madam (DG Shobha Ohatkar) should be misbehaved. Since I am reviewing, then come here to my chamber and tear your clothes and file a rape case. I will file a case against those male officers and employees who are against."
DIG caught in scam worth six and a half crores
No one will be able to stop us, nor will our testimony be accepted.
When the DIG left after saying this, I am afraid that she may also do this. Apart from the DG, there are mostly men in the office. There is only a male attendant at our door. In such a situation, if he comes here by force and tries to implicate him, no one can stop him and no one's testimony will be accepted. We may be harassed. Therefore, to avoid any false case, I have mentioned in a confidential report what DIG Anusuiya Ransingh Sahu was saying about our DG Shobha Ohatkar and what she was also saying about me. I have given a report to madam mentioning the management of these two things. Wherever she has sent it, only she understands or can tell it better.
IG had accused DG last time