Israeli forces attack female journalist's funeral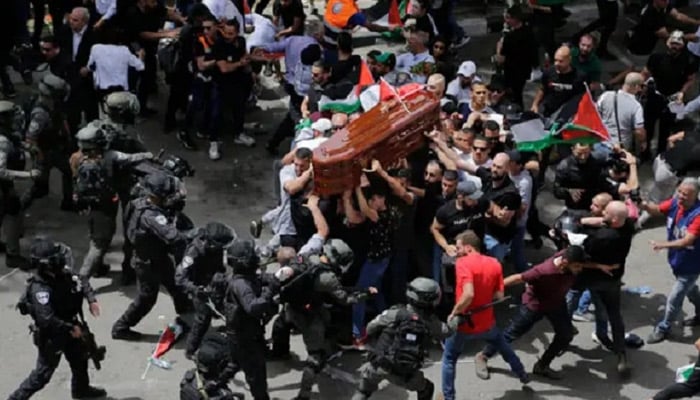 Israeli security forces stormed the funeral of Shirin Abu Aqila, a female journalist who was shot dead by Israeli security forces, and tortured participants, causing the coffin of the martyred female journalist to fall to the ground.

According to a foreign news agency, 10,000 people attended the funeral prayers of Shereen Abu Aqila and paid tribute to him. It was also difficult to handle the coffin.
Al Jazeera's female journalist is thought to have been shot dead by Israeli forces in the West Bank.
According to international media reports, Shirin Abu Abu Aqila was shot in the head during coverage of an Israeli army operation. Footage from the scene showed Shirin Abu Aqila wearing a press shirt and helmet.
Shirin Abu Aqila covered Israel and the Palestinians for decades, with female journalist colleagues and friends expressing deep sorrow over her death, calling it a great loss to journalism.
On the other hand, US envoy to the United Nations Linda Thomas Greenfield on the killing of a Palestinian-American woman journalist by the occupying Israeli forces said that the murder of a woman journalist should be investigated in a transparent manner, the parties are encouraged to participate in the investigation. Is.
Palestinian President Mahmoud Abbas says Israeli authorities are fully responsible for the killing of a female journalist, and rejects an investigation into the journalist's murder by Israeli authorities.
Mahmoud Abbas added that we do not trust Israel, the Palestinian Authority will immediately go to the International Criminal Court.
It should be noted that the last rites of the Palestinian-American woman journalist have been performed with official honors.
According to a foreign news agency, the last rites of journalist Shereen Abu Aqila were performed at the presidential compound in Ramallah. The Palestinian-American woman journalist was presented with a guard of honor before the last rites.
.