Weather: Heavy rain has started since Monday afternoon. The storm started in the afternoon in the vast area of ​​South Kolkata. North 24 Parganas, South 24 Parganas also receive rain. On this day, there was a storm in Kolkata with a speed of 84 km per hour.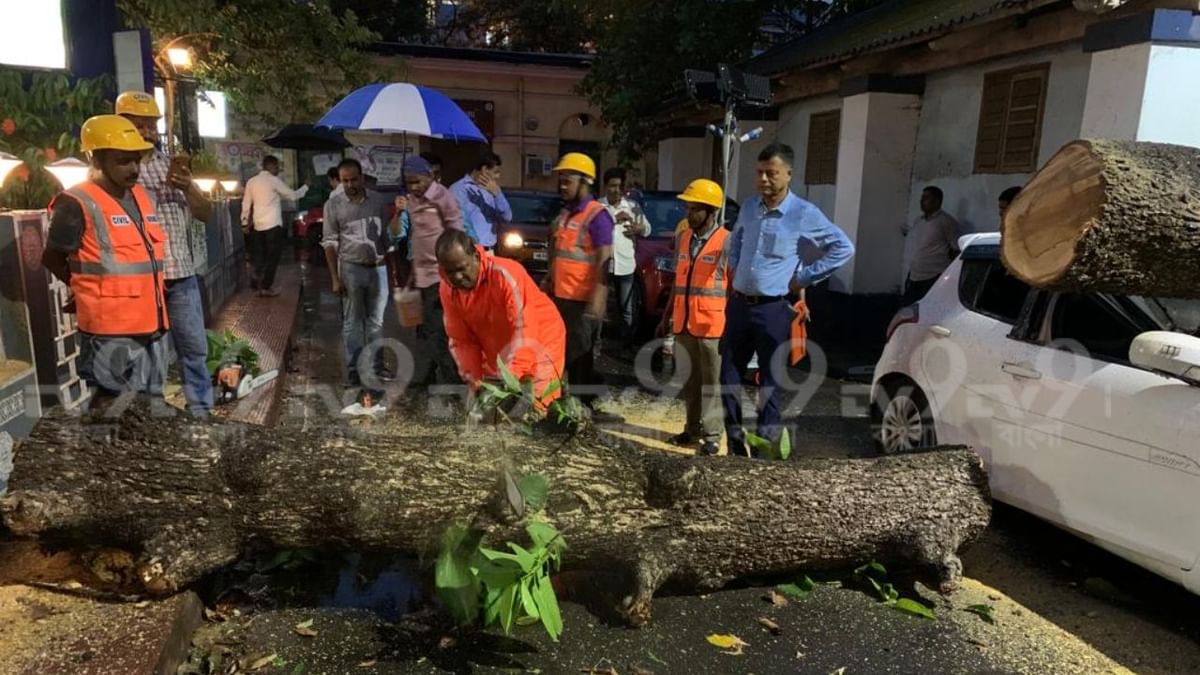 This is how trees fell in the city in the storm.
A sudden storm on Monday afternoon. They ran rampant in large areas of Kolkata. Same picture in district after district. In some places, house rice has been blown away, in some places trees have fallen and disrupted electricity service. Traffic is also disrupted. In the meantime, news of trains running late in one branch after another has started coming. A storm with a speed of 84 kilometers per hour hit Kolkata for three minutes on this day. Dumdum stormed at a speed of 62 km per hour. Kolkata as well as Howrah has received stormy rain. Two 24 Parganas, Nadia, Medinipur also received rain. As per the latest reports, 5 people have been killed in the storm.
So far, 5 people have died, suffering in many places
A large tree fell on the wire of the railway line in the area near the Bhogpur railway station of Panshkura in East Midnapore, disrupting the movement of trains. Up and down local trains and express trains stopped. Woe to the passengers. Train and bus passengers are stuck at Mecheda Central Bus Stand and Station.
Adverse weather, temporary impact on air traffic at Kolkata airport due to Kalbaisakhi. Sources reported that five flights arriving at Kolkata airport were diverted and landed at another airport.
The US Bengal flight from Dhaka to Kolkata was diverted and landed at Dhaka airport.
Vistara flight from Delhi to Kolkata was diverted and landed at Bhubaneswar airport.
An Air Asia flight from Surat to Kolkata was diverted and landed at Bhubaneswar.
Indigo flight from Delhi to Kolkata landed at Ranchi airport.
A flight from Chennai to Kolkata landed at Ranchi airport.
A woman from Deulti North Chak Kamala area of ​​Bagnan police station of Howrah died after being crushed by a tree in the storm. Name Rajni Prasad (42). According to police and local sources, the housewife was outside the house during the storm. At that time a dry palm tree fell. That is death.
A 40-year-old woman named Saraswati Biswas died after a coconut tree fell on her house in Jafarpur Chalbazar area under Mohanpur police station of North 24 Parganas.
A young man died after a tree fell in Mangalpande Park area of ​​Barrackpore in North 24 Parganas. Name Kaushik Dhali (21). Kaushik is a resident of Ranaghat. On the way back home, he fell into a storm. The tree fell on the head. dies
A 75-year-old man died after his house collapsed in the afternoon. In Chota Amsha village of Bahira Gram Panchayat of Uluberia-1 Block, Howrah. According to the police, the name of the deceased is Ram Mandal.
An uprooted electricity pole fell on Sheikh Asraf Khan (62) in Sridharvasan village of Kolaghat block of Panshkura police station area of ​​East Midnipur. He died. Asraf, a lorry driver by profession, parked the lorry in front of the house and headed towards the house. Suddenly, the tree fell on the electric pole, which then fell on the man, killing him on the spot.
A tree fell on a car under the tree in the office of the District Magistrate of South 24 Parganas due to strong storm. One person was rescued immediately. Another injured person was taken to Bangur Hospital. After first treatment, he is said to be stable.
A tree fell in front of Dharmatala Chandni Chowk in Kolkata and stopped tram movement. A tree has fallen on a part of a house in Muraripukur.
On entering Lelin Sarni from Dharmatala, a tree on the right side of the footpath was uprooted, blocking a part of the road.
Between Shyamnagar and Jagaddal, overhead wires were snapped in the storm. Train movement was disrupted for 30 minutes at Shyamnagar-Naihati station on Sealdah Main Branch. Although it started later, all the Sealdah up-down trains are running late by 20 minutes. Commuters back to office are in trouble.
Up Arambagh local stand between Hindmotor Konnagar station. Flakes fly in the storm and fall on overhead wires. Power off due to short circuit. Arambagh local leaves Hindmotor station at around 5:30. Although the train is stopped on the up line, the up train is running on the reverse line.
Train movement on Laxmikantpur line of Sealdah South Branch is disrupted due to stormy rain. Two trains are standing at South Barasat station.