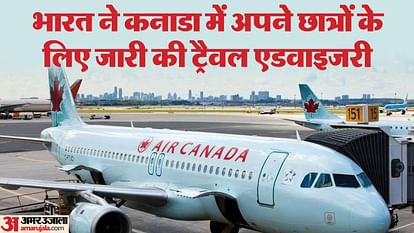 Khalistan: Travel advisory
– Photo: Amar Ujala/Sonu Kumar
Expansion
After the terrorist threats being received by Indians living in Canada, the Ministry of External Affairs issued a travel advisory. With this advisory, India also made its biggest diplomatic move. Due to which the message about Canada is now being spread across the world that it is not able to control the terrorists and those who openly threaten in their country. Foreign affairs experts say that it is a big thing for any country that if a country issues a travel advisory to its citizens just because the terrorist organization of that country stops only the people of a particular country from traveling. Threatening to target.
The controversy that started after Canadian PM Justin Trudeau's allegations regarding the murder of Khalistani terrorist Hardeep Singh Nijjar is deepening. Following the threat from pro-Khalistan organization Sikh for Justice (SFJ), the Indian Ministry of External Affairs has issued a travel advisory for Indians living in Canada and Indian students studying there. Alok Sinha, an expert on foreign affairs and a former diplomat, says that the Ministry of External Affairs must have issued the travel advisory after a lot of thinking. He says that the advisory issued in today's circumstances for a country like Canada shows that the government there is bowing down before terrorists and those who threaten. That is why the country is advising its citizens to avoid traveling there. He says that if the Canadian government had given so much assurance that it was taking strict and strict measures after the threats from the terrorists, then perhaps such a situation would not have arisen.
He says but the Canadian government has been continuously ignoring the threats not only to Indian citizens but also to our diplomats in this matter. Recently, the way Gurpatwant Singh Pannu, declared a terrorist in India, released a video and threatened the Indians living there. In the video he asked the Hindus living there to leave Canada. In the video, Pannu can be heard saying leave Indo-Hindu Canada, go to India. She said that those who not only support India but are also supporting the suppression of speech and expression of pro-Khalistan Sikhs. They should leave Canada immediately. This threat was issued by Pannu, which was not only carried forward by her supporters in Canada but also forwarded the threats on social media.