Patna, 24 November 2022: Kisan Mahapanchayat reviewed the preparations of Rajgir on 26 November in Shri Krishna Nagar, Patna. Representatives of organizations of the state unit of United Kisan Morcha participated in the meeting. The Mahapanchayat will be organized in the historic city of Rajgir Nalanda on 26 November 2022 from 11 am. All the veteran farmer leaders of the country will participate in the mahapanchayat.
Giving information about the preparations, he said that a large number of farmers and laborers will participate from all the districts of the state. For the historic success of the Mahapanchayat in all the districts, teams of farmer leaders are holding meetings of farmers in every village. There will be proper arrangements for eating food in Mahapanchayat one day. Workers' reception committees will be deployed at railway stations and bus stands so that farmers coming from outside do not face any problem in reaching the Mahapanchayat site. Apart from Kisan buses-trains, there are information about reaching the mahapanchayat by tractors.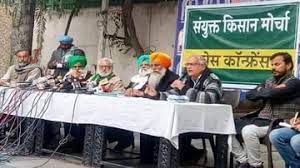 In the mahapanchayat, farmers across the state will besiege the government for the dismissal and arrest of Union Minister of State for Home Ajay Mishra Teni, guilty of the Lakhimpur violence. In the meeting, open loot and shortage of fertilizer-DAP, loot of crops like paddy and public problems like rising inflation, privatization etc. were discussed and in the Mahapanchayat also these subjects will be put forward to the government with full vigor. The farmer of Bihar has his own problem. Like:- Implementation of MSP guarantee, compensation to the martyred farmer during the farmer's movement on the borders of Delhi, withdrawal of Agneepath scheme, starting of trade committee (mandi) in Bihar,
Like other states, providing free electricity and water to the fields, making available the outstanding amount to the sugarcane growers, connecting MNREGA with agriculture work, opening the closed Rajgir Agricultural College, declaring South Bihar as a dry area,
.Land erosion in Ganga Kosi Permanent solution of Kosi will be other local issues.
Let us tell you that Mr. Surendra Prasad Yadav, founder of Indian Revolutionary Farmers Union Arbind Sharma, Jawahar Nirala, Convener Kisan Sangharsh Samiti, Bihar Chandrashekhar Prasad, President Save Village, Save Country Sangharsh Samiti, Ramchandra Azad, President Progressive Kisan Sangh, Kallu Singh, Naujawan Kisan Morcha, BB Singh, Dr. Vinay Singh, Umesh ji, leaders and representatives of other farmer organizations were involved. Issuer Jawahar Nirala, Chandrashekhar Prasad, Ramchandra Azad, Kallu Singh, Umesh Sharma, Anil Kumar Singh Umrao PrasadNirmal Surendra Prasad Yadav.