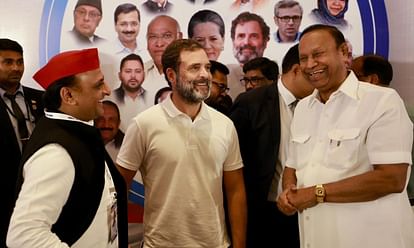 Rahul Gandhi and Akhilesh Yadav.
– Photo: Social Media
Expansion
As the Lok Sabha elections are coming closer, parties have started making their strategies regarding seats. The biggest stir is in the camp of India alliance. Everyone is interested in which seats are left for SP, Congress and RLD. According to sources, Samajwadi Party may first leave those Lok Sabha seats to the constituent parties of India Alliance, where it never won. There are about 19 such seats in Uttar Pradesh. SP will not claim these seats because the constituent parties have performed better on many of these seats.
SP had fought the 2019 Lok Sabha elections in alliance with BSP. SP leaders believe that in that election, the more promising seats like Jaunpur, Mau and Ambedkar Nagar went to BSP, while the seats like Lucknow and Varanasi went to SP, where it never won. Therefore, this time under the alliance, SP will give priority to those seats where it has never got success since its birth till date.
These are those seats
According to sources, about 19 such seats have also been identified. These are – Baghpat, Meerut, Ghaziabad, Noida, Aligarh, Mathura, Agra, Hathras, Bareilly, Kanpur, Pilibhit, Dhaurahara, Gonda, Basti, Varanasi, Sultanpur and Lucknow. Apart from this, SP has not fielded its candidates in Amethi and Rae Bareli as per political etiquette, because members of Gandhi family contest elections from here. Let us tell you here that the exercise for distribution of seats in the India alliance has started. State wise brainstorming will be done soon.
Congress has opened both options
There have been no warm statements regarding seats between Congress and SP for some time. SP President Akhilesh Yadav has said that he will give seats to India Alliance and not ask for it. This clearly means that UP SP is talking about distributing tickets as per its own wish. On the other hand, Congress is also in talks with BSP. According to sources, Mayawati and Priyanka Gandhi have met once or twice on this issue. Along with this, Congress State President Ajay Rai has reiterated this many times that Congress is preparing to contest all the seats.
Congress's claim is strong
Although RLD is also in the India alliance, considering the Lok Sabha elections, Congress's claim is stronger. Except for a few seats in Western UP, only SP and Congress can share seats among themselves in the rest of UP.