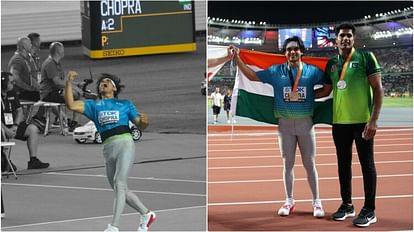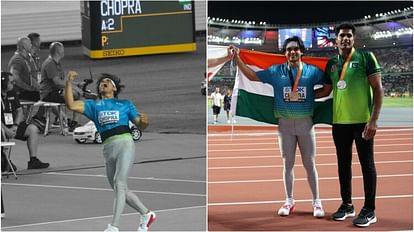 Neeraj Chopra
– Photo: Social Media
Expansion
Neeraj Chopra has created history by winning gold in the World Athletics Championships. He is the first Indian to do so. The whole country is jubilant on this achievement of Neeraj. However, a grudge still remains in Neeraj's mind. Neeraj himself disclosed this after winning the gold medal. He told that he wanted to touch the 90m mark in the final of the World Athletics Championships, but things did not go the way he expected.
Neeraj had a personal best throw of 88.17m in his second attempt and continued to lead till the end to win the gold medal. Commonwealth Games champion Arshad Nadeem won the silver with a best throw of 87.82m, while Jakub Vadlej of the Czech Republic took the bronze with a best throw of 86.67m.
Neeraj Chopra- I want to thank the people of India for staying up late. This medal is for all of India. I'm Olympic champion now I'm world champion. Keep working hard in different fields. We have to make a name in the world. pic.twitter.com/JsymGj3Kwd

— jonathan selvaraj (@jon_selvaraj) August 27, 2023
Despite winning the gold medal, Neeraj looked a bit dejected. He said "I wanted to throw over 90m tonight. But everything has to be in my favor for that. I just couldn't get everything right together this evening. Maybe next time I can."
Neeraj took a lead in the second round itself which he held throughout the final, yet yearned to break his own record and better it in his final throw. Neeraj said "After the second round, I was thinking of pushing myself as I knew I could get a better throw. But there is a lot of pressure on technique and speed. We have to push a lot in the qualifying round. There was only one day for recovery after the qualifying round, so that was also a big factor. I go into the last throw with the motivation to push myself and throw better."
Neeraj was not the only Indian to compete in the final of this event, Kishore Jena (best throw of 84.77m) and DP Manu (best throw of 84.14m) were also in the competition. Kishor finished fifth and DP Manu finished sixth. This was Neeraj's second medal in this event after securing a silver medal in 2022 at the World Championships. Earlier, Anju Bobby George had won a bronze medal for the country in the 2003 World Championships for women's long jump. He has also won gold medal in 2018 Commonwealth Games and 2018 Asian Games. Neeraj will be in action again at the Asian Games, Hangzhou, to be held from September 23 to October 8. This will be the last big competition of the year for Neeraj.