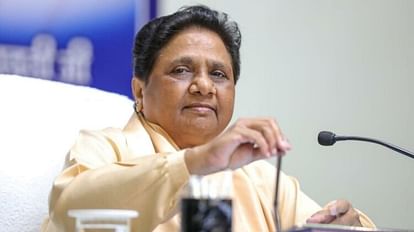 BSP supremo Mayawati.
Photo: amar ujala
Expansion
Completely rejecting the discussions of BSP joining the opposition alliance India, party supremo Mayawati has clearly said that she will not be in any alliance for the upcoming assembly elections of four states Madhya Pradesh, Rajasthan, Chhattisgarh and Telangana and Lok Sabha elections 2024. will also not attend. He has announced that the BSP will contest the elections alone.
He tweeted that NDA and India alliance are mostly parties with anti-poor, casteist, communal, pro-Dhanna Seth and capitalist policies against whose policies BSP is continuously struggling and hence the question of contesting elections in alliance with them does not arise. Hence appeal to the media – no fake news please.
read this also – Atiq Ahmed's henchman is also a big player: servant's wealth increased 15 times in six years, created immense wealth
read this also – Ghosi by-election: first test of NDA vs India, BSP out of election, but its votes will be decisive
BSP, more than manipulations and manipulations by the opponents, will unite the broken and neglected crores of the society on the basis of mutual brotherhood and with their alliance will contest the upcoming Lok Sabha and assembly elections in four states alone like in 2007. Media should not spread misconceptions again and again.
He said that although everyone here is eager for an alliance with BSP, but for not doing so, the opposition alleges collusion with the BJP like a cat scratching a pole. If you meet him then you are secular, if you don't meet him then you are BJP. This is grossly unfair and if grapes are found then it is better, otherwise the grapes are sour, like the saying.
Moreover, after being expelled from BSP, the former MLA from Saharanpur is busy in praising the Congress and top leaders of that party, due to which it is natural for people to question why he first left this party and then went to another party? How can people trust such people?
Speculations were rife about Mayawati's participation in the meetings of the opposition coalition India to be held in Mumbai on August 31 and September 1. It is now clear from her statement that she is not attending the meeting.