Irshadgul News report,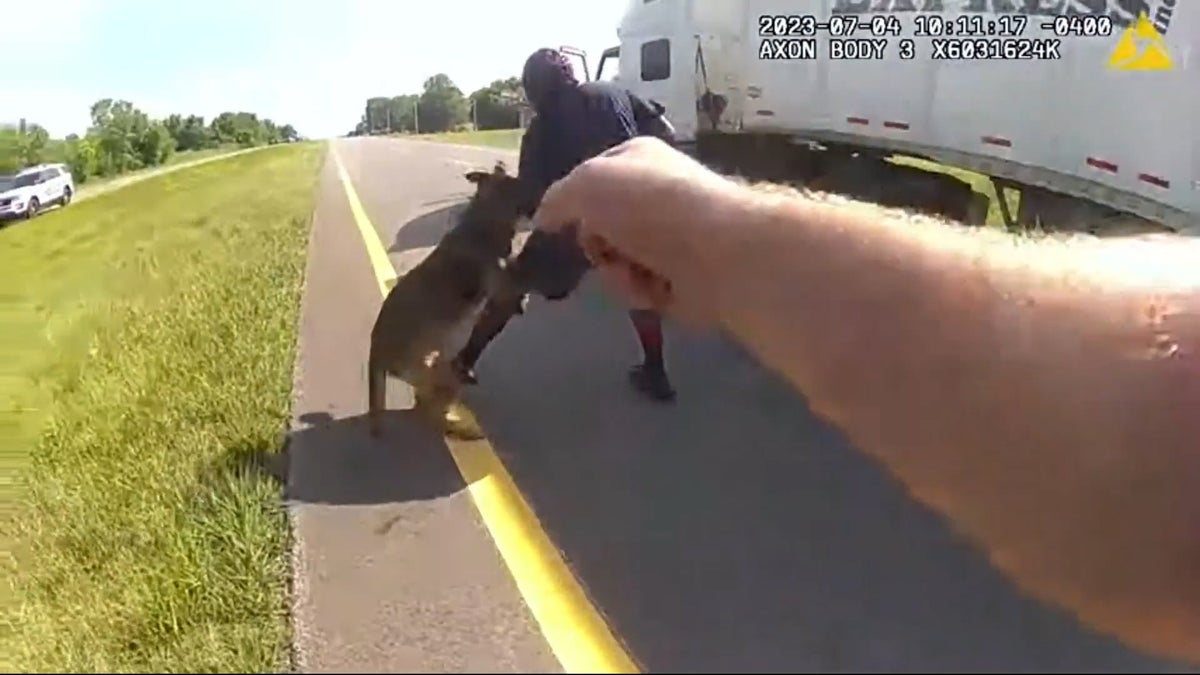 New bodycam footage shows an Ohio police officer who fired his K-9 at an unarmed black man to defend his actions after a traffic stop.
Officer Ryan Speakman of the Circleville Police Department, who has since been fired, could be heard asking his co-worker, "Am I wrong?" After allowing the dog to attack 23-year-old Jadarius Rose, a truck driver who failed to obey a traffic stop on July 4 due to his mud flaps.
In the bodycam footage, Mr. Speakman can be heard telling another officer, "I don't know why they seem angry with me." "He didn't comply. I gave him three orders. I gave him a 'final warning'. If you don't comply, you'll get the dog."
Mr. Speakerman then asked his fellow officer, "Am I wrong," to which he replied, "No."
The officer was fired from the department following an investigation into why he allowed his dog to attack Mr. Rose, who surrendered with his hands up despite State Highway Patrol troopers urging the officer to hold the dog back. Was doing.
The prolonged chase and subsequent assault on July 4 were captured on Mr. Speakerman's bodycam. Authorities said the chase began on U.S. Route 35 after officers tried to stop a commercial semi truck that did not have mud flaps and failed to stop for inspection.
According to the Ohio State Highway Patrol incident report, Mr Rose, of Memphis, Tennessee, initially refused to exit the truck and later disobeyed instructions to get on the ground.
Initial bodycam footage released at the time showed Mr Rose kneeling in front of soldiers, with his hands in the air.
A constable is heard repeatedly warning: "Don't leave the dog with your hands up". It is unclear whether Mr. Speakman listened to the soldier.
Mr. Speakerman is then heard yelling, "Get on the ground or you'll be bitten" after which he releases the dog on the man.
Mr. Rose is heard screaming for help and asking police officers to get the K-9 away from him.
The dog can be seen biting and pulling the hand of the man, who is on his knees and howling in pain.
"get it off!" He is heard saying that a trooper asks to remove the dog from the suspect.
Another officer is heard asking for a first aid kit. The footage also shows a police officer covering his mouth with his hands and leaving the scene.
Authorities said Mr. Rose was treated and released from a local hospital and then taken to the Ross County Jail where he was charged with failure to comply and later released on bond.
Mr. Speakerman has been fired, the police department said in a statement.
According to CNN, the department said, "Circleville Police Officer Ryan Speakman's actions during his July 4 review of suspect Jadarius Rose's dog capture demonstrate that Officer Speakman does not meet the standards and expectations we set for our police officers." Keep it for the officers. "Officer Speakman has been dismissed from the department effective immediately."
Mr. Rose later said that it was fear that prevented him from stopping his truck for the officers.
"I just didn't want to lose my life or lose my arm," Mr. Rose told NBC News' Tom Lamas on 'Top Story with Tom Lamas.'
Mr. Rose called 911, which revealed that he told the dispatcher he felt unsafe after being instructed to roll down the window.
"I did that last time and they all pointed their guns at me. You think I feel safe?"
According to recordings released by the Ross County Sheriff's Office, Mr. Rose told dispatchers that the officers pursuing him were "trying to kill" him and that he "didn't feel safe" enough to stop the vehicle.
Mr Rose also said he was confused as to why he was being asked to stop and why the police drew their guns when he stopped.