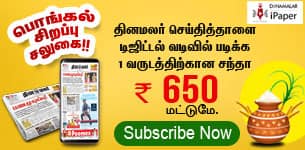 Anwarbhai sipped ginger tea as he said, 'They haven't paid rent for almost 25 years."
Annachi asked, "Where does this injustice come from?"
"The kerosene bunk owned by Salem Ammapet City Co-operative Credit Union is located in North Ammapet… The 3,600 sq.
"But, after opening the bunks, for 25 years, they did not pay a single rupee as rent to the corporation… So far, they have owed 54 lakh rupees…
The leader of the union, ADMK's Yadavamurthy, who is also the opposition leader of the corporation, said to the officials that he should not ask for bunk rent as long as I am the leader of the union.
"Does the mayor of the ruling party and the leader of the opposition party have a good relationship, the corporation officials are also in the dark… Next August, the term of credit union president Yadavamurthy will end… At least after that, the corporation officials are waiting to see if they can collect the rent money…" he said. , Anwarbhai.
Subscribe Dinamalar channel for new news
Advertisement