UK to send thousands of winter kits to Ukrainian troops. In particular, the UK has been providing military and humanitarian aid following Russia's invasion of Ukraine.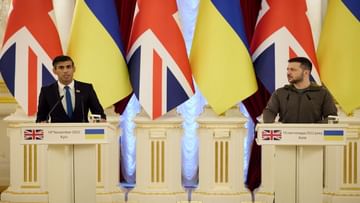 UK PM Rishi Sunak and Ukraine President Zelensky
Image Credit source: @10DowningStreet Twitter handle
Britain's new PM Rishi Sunak visited Ukraine for the first time after assuming power. Meanwhile, he has announced a £50 million air defense package for Kiev. During the visit, Sunk promised Ukrainian President Vladimir Zelensky that Britain would provide an air defense package for Ukraine, including 125 anti-aircraft guns and technology. He stressed that the air defense package would protect Ukraine from Russian attacks and help counter Iranian-supplied drones. Read international news here.
An official statement from the UK Prime Minister's Office said that during a meeting with President Zelensky, the UK Prime Minister will provide a major new air defense package to help protect Ukrainian civilians and vital national infrastructure from Russian attacks. He further said, "The 50 million UK pound package of defense aid includes 125 anti-aircraft guns and technology to counter deadly Iranian-supplied drones. This includes dozens of radars and anti-drone electronic warfare capabilities.
Britain will continue to support Ukraine – Sunak
Rishi Sunak said Britain would continue to support the Ukrainians in their fight. They laid flowers at the memorial built for those killed in the war. "I am proud that the UK has stood by Ukraine from the beginning and I am here today to say that the UK and our allies will stand by Ukraine," Rishi Sunak said during a visit to Kyiv. End this barbaric war and give only peace.
Russia is bombing civilians – Britain
He continued, "While Ukraine's armed forces were able to push back Russian forces on the ground, civilians are now being mercilessly bombarded from the air. We are delivering new air defenses today, including anti-aircraft guns, radar and anti-drone equipment. He also promised to increase humanitarian assistance for the coming harsh winter. During the visit, Sunak also announced £12 million for the World Food Program's response to Ukraine and £4 million for the International Organization for Migration.
Prime Minister @rishisunak met @ZelenskyyUa in Kyiv today.

The UK stands firm with Ukraine as it fights to end this barbarous war.

That is why we are committing an extra £50m in funding to strengthen Ukrainian air defences.

Read more: https://t.co/F3SAbXwnwZ pic.twitter.com/iSdWQt5L5x

— UK Prime Minister (@10DowningStreet) November 19, 2022
Britain to send winter kit for army
The UK PM's office said in a statement that the funds would help Ukraine with generators, mobile health clinics and shelters. In addition, Britain will send thousands of cold winter kits for Ukrainian troops. The UK has been providing military and humanitarian aid to Kiev, particularly since Russia's invasion of Ukraine. Britain has imposed sanctions on Moscow since Russia invaded Ukraine on February 24.