Vadodara's power lifter Sunny Sombhai Bawcha has brought glory to Vadodara and Gujarat by winning a gold medal in the National Powerlifting Championship held in New Delhi recently.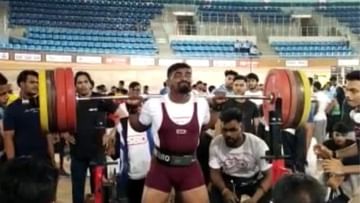 Powerlifter Sunny Bawcha
Sports Authority of Gujarat (Gujarat)36th National Games for the first time in the state(National Games 2022) Sunny Sombhai Bawcha, the coach of this organization and Vadodara's power lifter, has made a new record in the recently held National Power Lifting Championship in New Delhi and has raised the glory of Vadodara and Gujarat by winning a gold medal in his name. He achieved this feat by lifting a total of 640 kg in the 83 kg weight class and set a new national record of 250 kg squat in the competition.
So far won 6 gold medals in 8 national competitions
This power lifter says that my goal is to make it to the Indian team in the next Commonwealth Games and win a medal. He has been selected for an international power lifting competition in the near future. He has been powerlifting for the past seven years and has won 6 gold medals in 8 national competitions so far. He started with the sport of body building. His contribution in creating an encouraging environment for this sport in the city.
Gujarat has been strongman 6 times and Vadodara 7 times
In which sports love is a family legacy for him. His father Sombhai and brother Keval have been Ranji players. Sunny thanks CrossFit Gym and its manager Lokesh Sharma for keeping the sport going during the pandemic. As coach of SAG, he is training the future power lifters of Vadodara and the state. The sport has been dominated by men till now. Now, he considers the reawakening of the sport among girls as a good sign for the sport's bright future in the state. They are optimistic.