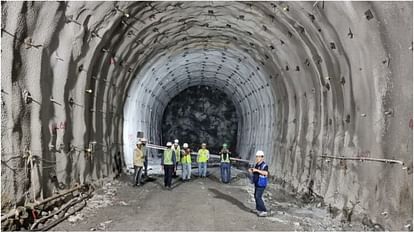 Sevak-Rangpo Rail Project
– Photo: Amar Ujala
Expansion
Northeast Frontier Railway has achieved another success. The work of tunnel number T-03 of Sevak-Rangpo Rail Project (SRRP) located in Darjeeling district of West Bengal has been completed. Achieving this success established a big milestone. With the success of this tunnel, the mining work has been completed in seven tunnels in this project so far.
Sabyasachi Dey, Chief Public Relations Officer of Northeast Frontier Railway, told Amar Ujala that the length of the main tunnel is 1275 metres, which is located between Kazijhora and Swetijhora in West Bengal's Darjeeling district. The main tunnel passes through highly sensitive and challenging geological and seismic conditions in the lower Himalayas. Emission of methane gas was a major challenge during the construction of this tunnel.
Regular testing of methane gas was done as a safety measure to avoid any untoward incident during the work. Like all other tunnels in SRRP, to counter the vulnerability of the ground mass, the latest and most sophisticated tunneling technology i.e. New Austrian Tunneling Method or NATM has been used here. An American consultancy team has been engaged for the tunnel design in this project and the execution team comprises of top class and well experienced engineers and geologists from India and abroad.