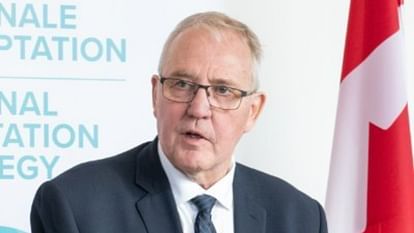 Canadian Defense Minister Bill Blair
– Photo: Social Media
Expansion
There has been a rift in relations between India and Canada since the death of Khalistani terrorist Nijjar. Indian intelligence agencies were accused of Nijjar's murder by the Prime Minister of Canada. Since then India and Canada are not liking each other. Visa services for Canadian citizens were suspended by India following the allegations. Now Canadian Defense Minister Bill Blair has expressed concern about this step of India. He said, we have requested India to cooperate fully in the investigation of Nijjar murder. Also, he said that let's work together to solve it in a proper way.
"We believe we have very credible intelligence that we are very concerned about and the RCMP (Royal Canadian Mounted Police) have now launched an investigation," Blair said in an interview with Canada's national public broadcaster CBC News on Sunday. .
Asked if he was concerned about some of the steps taken by India, Blair said, I am concerned about the steps that they are taking because we have a very significant Indian-Canadian population in our country. All of them are connected to India through family, business and other relationships.
In a separate interview aired Sunday on The West Block, Blair described relations with India as important and suggested that Canada would continue to pursue partnerships such as the Indo-Pacific Strategy while the investigation into the allegations continues.
Khalistani terrorist Nijjar was shot dead in a car parking in British Columbia on June 18. Justin Trudeau, while addressing Parliament, had said that Indian intelligence agents could be involved in this murder. India and Canada are at loggerheads after the allegations. India had declared Nijjar a terrorist in 2020 itself.
India responded to the allegations
Responding to the allegations made by Canadian PM Trudeau, India had said that all these allegations are absurd. In this case, in return for Ottawa expelling an Indian official, India also expelled a senior Canadian diplomat. Last week, India had asked Canada to take action against active terrorists and anti-India elements.
India had also asked Canada to reduce the number of its diplomatic staff in the country. Arguing that there should be equality in strength and rank in mutual diplomatic presence. The size of the Canadian diplomatic staff in India is larger than that of Canada in New Delhi.
Canada shared evidence on Nijjar's killing with India several weeks ago, Canadian Prime Minister Trudeau said on Friday. He wants New Delhi to engage constructively with Ottawa to establish the facts in a very serious matter.