Sharmila Farooqi's legal action, Nadia Khan also came in the field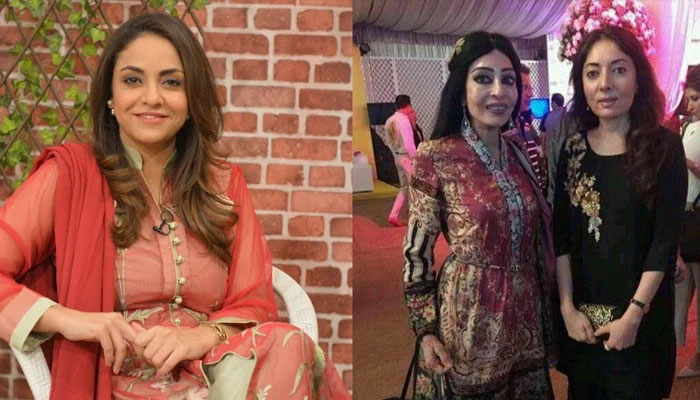 Pakistan Peoples Party (PPP) leader and Sindh Assembly member Sharmila Farooqi has filed an FIA cyber crime petition against Nadia Khan for questioning her mother.
After the legal action of Sharmila Farooqi, finally Nadia Khan herself came in the field and released a detailed video.
Nadia Khan released a 30-minute and one-second video of herself sitting with her husband Faisal on her YouTube channel 'Outstyle.com', titled 'Response to Sharmila Farooqi's allegations, now that's enough'.
In her half hour video, Nadia Khan talked about the questions asked with Anisa Farooqi and said that Anisa Farooqi is our mother's place.
Nadia Khan said that she was trying to bring all the celebrities in her Vlog at the event, so Anisa Farooqi was also there, so I asked her questions which did not involve any trolling.
Actress Nadia Khan said that I did not ask any wrong question, I did not use any immoral word during the question, nor did I do anything wrong.
He told Sharmila Farooqi not to talk to me in this tone at all.
Nadia Khan said that the video has been watched by 8 or 9 lakh people so far whose comments were only about dance, no one felt that I have asked questions to Anisa Farooqi in wrong tone.
The actress said that 8 days after the video was shared, Sharmila Farooqi says that Nadia is a shameless woman so it goes viral on social media.
"If Sharmila had a problem with the questions being asked of her mother in the video, she would ask me to remove my mother's part from the video. I did not like it," he said.
Nadia Khan said that after posting the status of Sharmila Farooqi, I texted her and told her not to escalate the matter too much because it is not my problem or yours but the problem of your weak mother.
Sharmila Farooqi, Nadia Khan is a controversy?
On the occasion of the wedding of actress Saboor Ali and Ali Ansari, Nadia Khan made a video with Anisa Farooqi in which she was trolling the mother of Sindh Assembly member.
Nadia Khan had asked Anisa Farooqi who does her make-up and who likes her clothes. On which Anisa Farooqi had mentioned the name of her daughter Sharmila Farooqi.
The video based on this question and answer with Sharmila Farooqi's mother went viral on social media after which an unending series of criticism on Nadia Khan started.
.