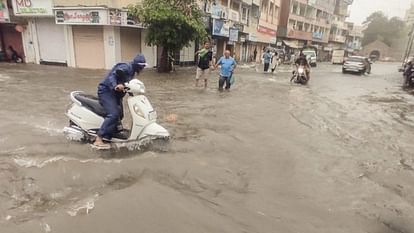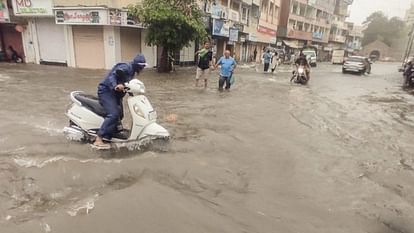 heavy rain
– Photo: Social Media
Expansion
In the last phase, due to active south-west monsoon again, there were torrential rains in hilly to plain states. In most areas of the country including Jammu and Kashmir, Himachal, Uttarakhand, Uttar Pradesh, Madhya Pradesh, Punjab, Haryana, Delhi, rivers and streams were in spate due to rain. Traffic came to a halt due to waterlogging and sinking of roads at many places.
Due to heavy rains, a culvert was washed away in Jammu and Kashmir and a temporary bridge was washed away in Himachal too. A teenage girl died and four others got burnt after being struck by lightning in Makanpur, Ghaziabad. Torrential rains in many areas of Delhi-NCR including Noida, Gurugram, Faridabad increased the problems of the people. During this period, winds blew at a speed of 50-70 km/hour. Union Territory Chandigarh, Punjab and Haryana received intermittent torrential rains. There were showers along with strong winds in Malwa region of Punjab and Ambala and Yamunanagar of Haryana. In Uttarakhand, rain continued in many districts including Dehradun, Pauri, Haridwar and Rudraprayag. On Saturday also, a yellow alert has been issued regarding heavy rain in the districts of Garhwal. The India Meteorological Department (IMD) on Saturday issued red, yellow and orange alerts of heavy to very heavy rain in more than 20 states. There is a possibility of rain in most parts till September 18.
Temporary bridge washed away, jammed
Due to heavy rains, a temporary culvert at Rogal Top in Nowshera on the Jammu-Rajouri Highway was washed away in the flash flood late on Thursday night. Due to this, traffic stopped and long lines of vehicles formed on both sides of the road. The work of reconstructing the culvert is going on. The temporary bridge built on Balad Khad of Baddi, Himachal was washed away for the second time. Due to this the traffic came to a standstill and a jam situation persists.