IG News Updates,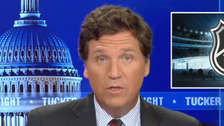 The National Hockey League showed its support for trans women last week, and now Tucker Carlson is suggesting that all professional sports are a vessel for leftist "forces" to brainwash the public.
Carlson then slammed the ridiculous new conspiracy theory on Wednesday's Fox News segment, cursing the league endorsed a draft tournament Wisconsin included fully transgender and non-binary players earlier this month. In response to an important tweet, the NHL Twitter account answered: "Trans women are women. Trans men are men. Non-binary identity is real."
Apparently very angry about this, the Fox News host bashed the NHL and professional sports in general as a mouthpiece for so-called "woke" ideologies.
"So clearly political forces hijack professional sports as a way to brainwash young people who watch professional sports," he said. "Of course, that's the whole point of it. It's strategic. But why doesn't anyone back down?"
Earlier in the segment, Carlson noted that the NHL has one of the most conservative fanbases of all major American professional sports, "so it's a little strange … that the NHL decided to push wiki propaganda on its fans." Is." By "awakened promotion", he was referring to the league's efforts to increase diversity among its staff and fans.
The NHL released the results of its first internal demographic study of its employees and 32 teams earlier this year. Unsurprisingly, the report found that its workforce was made up of white males: its workforce is 83.6% white and 62% male. On the ice, over 90% of the players and almost all coaches and officials are white. The league, eager to diversify its fans and grow its audience, has said the report will serve as a baseline so it can develop strategies to improve representation internally. Minority players have long raised issues of systemic racism and complained that the league has been slow to adapt.
var _fbPartnerID = null; if (_fbPartnerID !== null) { fbq('init', _fbPartnerID + ''); fbq('track', "PageView"); }
(function () { 'use strict'; document.addEventListener('DOMContentLoaded', function () { document.body.addEventListener('click', function(event) { fbq('track', "Click"); }); }); })();