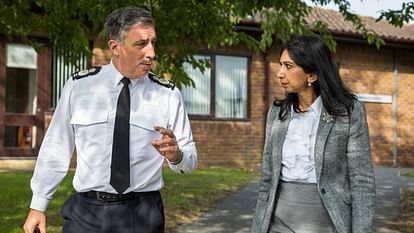 Britain's Home Minister with police officer
– Photo: Twitter/Suela Braverman
Expansion
Britain's Home Minister Suella Braverman has ordered to start a review of providing judicial protection to police officers. Actually, the government has taken this decision after the police officers adopted a rebellious attitude. The Home Minister said that 'We depend on our brave security officers for our security. He takes decisions in a fraction of a second under extreme pressure in the interest of the public. They should not be afraid of standing in the dock to perform their duty. Officers risk their lives to keep us safe. In such a situation, he has our full support. Therefore, we decided to review, so that the confidence of police officers does not weaken while doing duty.
what is the matter
Let us tell you that last year, a 24-year-old black youth, Chris Kaba, was shot dead by the police in South London. When Chris was shot, he was in a car and unarmed. After this murder there were massive protests in Britain. Now the Crown Prosecution Service has ordered a case against the police officer who fired the shot. There is resentment in the police department regarding this. Due to this resentment, many officers of Britain's Metropolitan Police have surrendered their licenses to possess weapons. Regarding this, Britain's Defense Ministry has offered to provide soldiers for backup.
The police department also expressed happiness after the support from the Home Minister. Police Chief Sir Mark Rowley praised the Home Minister's decision to order a review and said it was important to have a system in which police officers do not feel afraid while performing their duties.