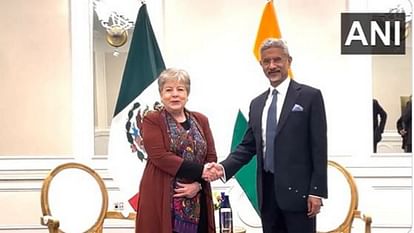 EAM S Jaishankar with Mexico Foreign Minister Alicia Barcena Ibarra
– Photo: ANI
Expansion
Foreign Minister S Jaishankar is on a tour of America these days. Jaishankar has gone to New York to attend the United Nations General Assembly. During this, he held separate bilateral meetings with the Foreign Ministers of Mexico, Bosnia-Herzegovina and Armenia. After the meeting with the Mexican Foreign Secretary, the Ministry of External Affairs tweeted that India-Mexico have been friendly, warm and cordial. It is characterized by mutual understanding and growing bilateral trade and all-round cooperation.
The Foreign Ministry tweeted that it was indeed a pleasure to meet the Mexican Foreign Secretary in New York this morning. During the meeting the two leaders focused on trade, science and technology, education, economy and traditional medicine. During this, there was discussion on taking forward the privileged partnership. Views were exchanged on improving multilateralism.
Apart from this, Jaishankar also met Foreign Minister of Bosnia-Herzegovina Elmedin Konakovic. They discussed strengthening bilateral relations while discussing trade and economy. Jaishankar also met his Armenian counterpart Ararat Mirzoyan and appreciated their shared assessment of the current situation in the caucus.