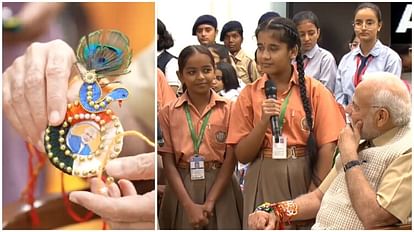 Prime Minister Narendra Modi tied rakhi to girls
– Photo: ANI
Expansion
Prime Minister Modi celebrated the festival of Rakshabandhan with children in Delhi yesterday. Girl students of various schools tied rakhi to Prime Minister Modi. During this, PM Modi looked very happy after meeting the children. At the same time, the children also looked very happy to have the Prime Minister in their midst. During this the children also raised slogans.
PM painted in the colors of children
PM Modi celebrates Raksha Bandhan with children at 7, Lok Kalyan Marg, Delhi. During this, the children were looking excited, while PM Modi was also seen in their colors. The children recited a poem to the PM. Not only this, the children started raising slogans of Jai Bharat Mata as soon as PM Modi arrived.
Asked the children to whom they will tie Rakhi
At the same time, the PM also talked to the children. He asked who has brought Rakhi? On this all the children said that we have brought it. The PM said, to whom will Rakhi be tied? The girls said to you. After this all the children tied rakhi and talked to him. A video of this has also surfaced.